Fresh windstorm knocks out power to thousands in Washington state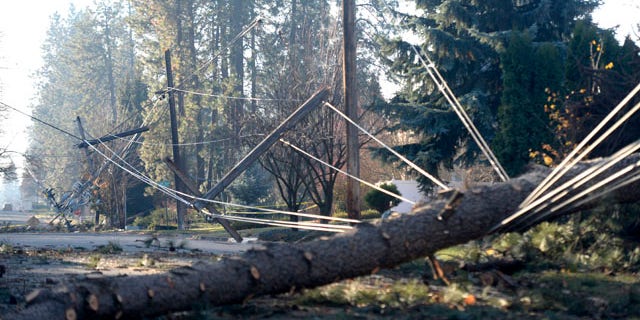 A second round of strong winds knocked out power to thousands of people in Washington state Tuesday, a week after a storm left thousands in eastern Washington shivering without electricity.
The gusts over 50 miles per hour felled trees and power lines and mostly affected the Kitsap Peninsula, where Puget Sound Energy reported about 200 outages affecting more than 44,000 customers. Utility officials said crews were working through the night to restore power to as many people as possible.
A spokesman for the Washington State Department of Transportation told Q13Fox that a gust of wind dislodged three pieces of corrugated metal sheeting from the Aurora Bridge in Seattle, sending it crashing onto a street below. The spokesman said a cyclist was hit by one of the pieces and was treated for a minor injury. None of the workers on the bridge were hurt and no other injuries were reported.
Meanwhile, crews in the Spokane area are still trying to restore power to about 20,000 customers affected by the damaging weather Nov. 17. Avista Utilities warned that as many as 5,000 customers in hard-hit areas might not have power back on Thanksgiving.
Last week's storm packed gusts of up to 70 mph that cracked trees and sent them crashing onto cars, killing three people in the state. More than 180,000 customers lost power at the storm's peak.
Gov. Jay Inslee visited Spokane to inspect damage from the worst windstorm in the region's history, promising to explore whether Spokane County qualifies for federal disaster assistance.
"This has been a very long and very, very tough week for Spokane County," Inslee said after being briefed by local leaders, adding that he has been impressed by efforts to care for vulnerable members of the community.
Heidi Garrett, 53, told the Associated Press she did not have power until Monday evening. She and her husband haunted restaurants and their gym to avoid their home, where the temperature inside dropped to 45 degrees.
"We went to coffee shops and stayed as long as possible," said Garrett, a writer.
They wore extra layers of clothing and used piles of blankets to sleep at night. But there was little to entertain them in a cold, dark home.
"It was boring," she said.
They got their power back before waking up to snow and icy streets Tuesday. About an inch fell Monday night, and the National Weather Service forecast rising winds, with wind chills making it feel even colder in the coming days.
Spokane public schools have been closed since Wednesday. While power has been restored to most schools, the district decided to cancel classes all week for 29,000 students because downed power lines and trees blocking sidewalks where children walk pose a danger.
Five schools were operating as warming shelters for those without electricity, officials said.
The Associated Press contributed to this report.
Click for more from Q13Fox.com.