French magazine Charlie Hebdo mocks Harvey victims as neo-Nazis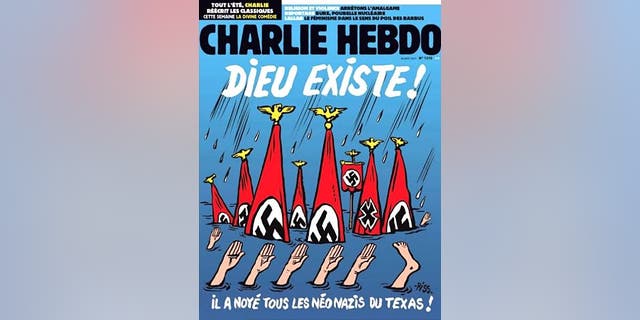 On its newest cover, controversial French magazine Charlie Hebdo appears to mock Texans, depicting them as neo-Nazis caught in the deluge of tropical storm Harvey.
The magazine's cover reads "God Exists! He Drowned All the Neo-Nazis of Texas." The words accompany an illustration showing swastika flags and arms raised in a Nazi salute -- all submerged in water, the New York Post reports.
The cover has sparked criticism on social media. Those taking offense include conservative commentator Debbie Schlussel.
"So the idiots at Charlie Hebdo are cheering the #Houston #Harvey disaster b/c they claim it drowned neo-Nazis. WTF?!," she tweeted.
Wrote another user: "That's a great way for France and Charlie Hebdo to show gratitude for the Texas boys that fought for her liberation from the Nazis."
"An evil, despicable cover. Also, the losers at Charlie Hebdo have a God-given right to publish it, & no one has the right to shoot them," wrote journalist Tiana Lowe.
The weekly magazine is known to cause controversy with its cartoons, which often create a backlash against the magazine – including a terrorist attack in 2015 in which two gunmen opened fire on the publication's staff in their Paris offices for mocking an ISIS leader.
More recently, the magazine's cartoonists depicted British Prime Minister Theresa May as decapitated and linked the vehicular terror attack in Barcelona to Islam.
The cover showed the words, "Islam: religion of peace ... eternal," with a cartoon showing mowed down people on the street.
A Politico cartoonist has also come under fire for, according to critics, mocking Harvey victims in Texas for their alleged hypocrisy.
Matt Wuerker portrayed a Texan with a Confederate flag shirt being airlifted out of a flooded house with a sign reading "secede." The cartoon man praised his rescuers as "Angels! Sent by God" only to be corrected that it was "actually Coast Guard ... sent by the government."