Fox News Poll: Confidence in economy up, yet majority still feels nervous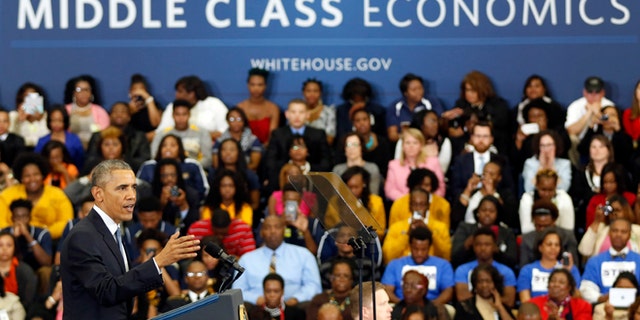 NEWYou can now listen to Fox News articles!
While a majority remains nervous about the economy these days, the number of voters feeling confident is growing.
That's according to the latest Fox News poll released Wednesday.
Over half of voters, 55 percent, are nervous about the economy. That's down from 65 percent who felt that way in 2013 and a high of 70 percent in 2010.
CLICK HERE TO READ THE POLL RESULTS
At the same time, the poll finds 39 percent of voters are feeling confident, up significantly from 28 percent two years ago (March 2013).
Since 2013, confidence is up among both men (+ 6 points) and women (+ 14 points), as well as independents (+14 points), Democrats (+ 13 points) and Republicans (+ 6 points).
Yet most Republicans still continue to have the jitters: 75 percent say so vs. 83 percent in 2013. Independents, by a wide margin, are also more likely to feel nervous than confident (60-33 percent).
Sixty-one percent of Democrats are confident about the economy, while 35 percent say they are nervous.
Education is also a strong predictor of feelings on the economy. Voters with a college degree (48 percent) are more likely than those without a degree (33 percent) to feel confident about the economy. White voters without a degree are even less likely to feel confident (27 percent).
Improved perceptions of the economy boost President Obama's job ratings. Of the issues tested, he performs best on the economy: 45 percent of voters approve, while 52 percent disapprove. Last month it was 46-50 percent. His record low rating on the economy came in August 2011, when just 34 percent approved and 62 percent disapproved.
Obama's next best issue is health care: 42 percent approve vs. 54 percent disapprove.
His worst issues include Iran (33-58 percent), foreign policy (36-55 percent) and immigration (37-58 percent).
As for Obama's overall performance, 45 percent of voters approve, while 50 percent disapprove. That's still underwater, but hardly his hull-scraping low of 38 percent approval in September 2014.
The Fox News poll is conducted by telephone with live interviewers under the joint direction of Anderson Robbins Research (D) and Shaw & Company Research (R). The 1,025 registered voters were reached via landline and cell phone numbers randomly selected for inclusion in this nationwide survey from March 29-31, 2015. The full poll has a margin of sampling error of plus or minus three percentage points.