FOX NEWS FIRST: Trump's new challenge: Selling skeptical Americans on tax cuts; SUV attack in Australia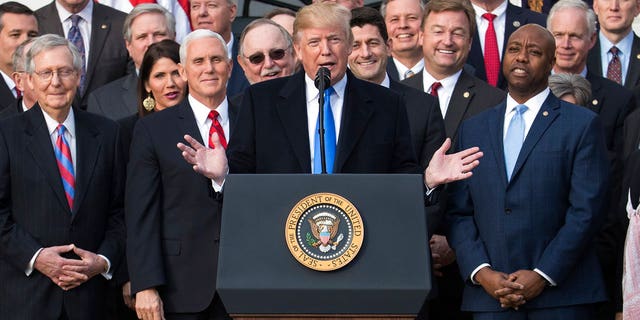 Welcome to Fox News First. Not signed up yet? Click here.
Developing now, Thursday, Dec. 21, 2017:
President Trump and Republicans celebrate Congress's passage of a historic, sweeping tax reform bill, but the public remains skeptical
The House races to avoid government shutdown with a late Friday deadline looming
Trump threatens to cut off funding to countries opposing his Jerusalem stand, as U.N. plans vote calling on president to rescind his decision
Two arrested after an SUV plows into pedestrians in Australia, injuring at least 14; authorities call it a "deliberate act"
Exclusive: House Intelligence Committee plans to issue new subpoenas on Justice and FBI personnel after FBI's Andrew McCabe's closed-door testimony
THE LEAD STORY: President Trump celebrated Congress' passing of a sweeping tax-reform bill as "the largest tax cut in the history of our country" and a step toward "making America great again." But he and his Republican "warriors" may have to work to convince many Americans ... The passage of the bill gave Trump a long-sought major legislative victory, after repeated failures to overhaul ObamaCare. The tax bill does include one major rollback of the Affordable Care Act, repealing the individual mandate requiring Americans to buy health insurance or face a penalty.
While Democrats uniformly opposed the package, the White House and GOP leaders have argued the mainstream media have not accurately portrayed the bill. They have vowed that the bill's popularity would improve once taxpayers see the effects. The Tax Policy Center estimates that 80 percent of taxpayers will see a tax cut next year.
Still, GOP strategists and candidates alike called on Trump to launch an immediate public relations tour to sell the plan. Only about 1 in 3 voters have supported the legislation in recent days, according to several polls.
RACING AGAINST TIME: A government shutdown could begin after 11:59 p.m. ET Friday. But first, the House Rules Committee plans to meet Thursday, likely starting at 8 a.m., to prepare a stopgap government spending bill that they can present to avoid a shutdown, Fox News has learned ... On Wednesday night, House Republicans unveiled two possible scenarios: (1) An interim spending bill that funds the government at current levels through Jan. 19. (2) A standalone, non-offset $81 billion supplemental disaster spending bill to cover hurricane damage in Puerto Rico, the U.S. Virgin Islands, Texas, Louisiana, Florida and wildfires in California. There is also a possibility the House Republican lawmakers could merge the two scenarios into one to sidestep a shutdown.
TRUMP TO U.N. - I'LL BE WATCHING YOU: President Trump has threatened cut off U.S. funding to countries that support a resolution criticizing his decision to recognize Jerusalem as Israel's capital ... "We'll save a lot. We don't care," he said, alluding to U.S. aid. The president strongly supported U.S. Ambassador Nikki Haley, who said Tuesday that the United States "will be taking names" of countries that vote in favor of a General Assembly resolution today declaring that Jerusalem's status can be changed only by direct Israeli-Palestinian negotiations. "For all these nations, they take our money and then vote against us. They take hundreds of millions of dollars, even billions of dollars and then they vote against us," Trump told reporters at a Cabinet meeting Wednesday. "We're watching those votes. Let them vote against us."
TERROR IN AUSTRALIA?: Police in Melbourne, Australia, say they have arrested the driver and one other person after a white SUV plowed into a crowd of pedestrians, injuring at least 14 people ... Police said at a news conference that they believe it was "a deliberate act," but that they do not know the motivation behind the attack. After the white Suzuki SUV crashed into a bollard, a steel safety post meant to insure pedestrian safety, police wrestled down and cuffed the driver. The incident comes at a time when vehicle-related terror attacks have been on the rise.
FOX NEWS EXCLUSIVE: Tuesday's seven-hour interrogation of Deputy FBI Director Andrew McCabe contained numerous conflicts with the testimony of previous witnesses, prompting the Republican majority staff of the House Intelligence Committee to decide to issue new subpoenas next week on Justice Department and FBI personnel, Fox News has learned ... While officials would not confirm who will be summoned for testimony, all indications point to demoted DOJ official Bruce G. Ohr and FBI General Counsel James A. Baker. Today, Ohr, who was demoted following revelations about undisclosed meetings he had with officials from Fusion GPS, will testify before the Senate Intelligence Committee. Fusion GPS is the firm behind the infamous - and discredited - dossier containing salacious allegations about then-candidate Donald Trump. Ohr's wife, Nellie, worked at Fusion GPS during the summer and fall of 2016.
AS SEEN ON FOX NEWS
BASKING IN VICTORY: "[It] accomplishes the president's vision, and we really do believe that it's gonna promote the kind of growth and opportunity for Americans that will really, in many ways, sell itself. But make no mistake about it, the president and I will be out across the country." – Vice President Mike Pence, on "The Ingraham Angle," reflecting on the passage of the tax reform bill and acknowledging the American public's apprehension. WATCH
THE TRUTH ABOUT TAX REFORM: "They cannot lie to the American people when the American people see they are keeping more of their money." - Commentator Dana Loesch, on "Hannity," blasting Democrats' hysteria and lies about the tax reform bill. WATCH
ACROSS THE NATION
Accuser tells 'The Story': Pro-Palestinian activist Linda Sarsour said sexual harassment 'doesn't happen to someone that looks like you.'
Virginia legislative election has come down to a tie, court rules.
Memphis confederate statues being removed after city council votes to sell parks.
MINDING YOUR BUSINESS
GOP tax bill: AT&T, Boeing among corporations rewarding employees.
Small business owners praise GOP tax bill | Time to ditch your 401(k) account?
Penske Media buys majority stake in Rolling Stone magazine.
NEW IN FOX NEWS OPINION
A Christmas wish: Christians in the Middle East need American support to live free from persecution.
The incredible lesson we should learn from the Christmas donkey.
Tammy Bruce: Let's give Trump a victory -- Media ignores his ISIS success, mocks him.
HOLLYWOOD SQUARED
Tom Hanks says he would refuse an invitation from Trump to screen 'The Post' at the White House
Hollywood producer Gary Goddard accused of sexual misconduct by eight former child actors.
Val Kilmer opens up about life after his battle with throat cancer.
DID YOU HEAR ABOUT THIS?
Amazing Christian discovery in Israel: Remains of 1,500 year-old monastery and church found.
Airlines battle growing pilot shortage that could reach crisis levels in a few years.
Texas mom shocks kids after 'Elf on the Shelf' gets baked in oven.
STAY TUNED
On Fox News:
Fox & Friends, 6 a.m. ET: Ivanka Trump will break down the tax reform bill and attempt to debunk myths surrounding the legislation; Counselor to President Trump, Kellyanne Conway and Sen. Bob Corker on the fallout from tax reform's passage. Pollster Lee Carter on the best and worst messaging moments of 2017. Plus, Cooking with 'Friends' with Gianno Caldwell.
Your World with Neil Cavuto, 4 p.m. ET: House Majority Whip Steve Scalise on tax cut passage and shutdown deadline. Sen. Dan Sullivan, R-AK, on Congress voting to open Alaska's Arctic National Wildlife Refuge (ANWR) for oil drilling.
Tucker Carlson Tonight, 8 p.m. ET: Former presidential candidate Jill Stein fights back against Russian collusion allegations in a must-see interview!
On Fox Business:
Fallout from the Senate's passage of the tax reform bill and the looming government shutdown will be among the hot topics today on FBN. Get all the latest news and analysis from the guests below!
Mornings with Maria, 6 a.m. ET: Rep. Sean Duffy; Sean Spicer.
Varney & Co., 9 a.m. ET: Sen. John Kennedy; Rep. Tim Tyan; Sens. John Thune and Rob Portman.
Countdown to the Closing Bell, 3 p.m. ET: House Energy and Commerce Committee Chairman Fred Upton; NYC Comptroller Scott Stringer.
On Fox News Radio:
The Brian Kilmeade Show, 9 a.m. ET to Noon ET: House Judiciary Committee Chairman Bob Goodlatte talks the latest in tax reform and the Mueller Russia investigation and FBI Deputy Director Andrew McCabe; James Rosen has exclusive new information on new subpoenas after McCabe's testimony on Tuesday; Steve Doocy and Ainsley Earhardt review 2017's biggest stories.
The Fox News Rundown podcast: The final revision of tax reform bill passed through Congress on Wednesday, giving President Trump the Christmas present he was hoping for. Bob Massi, host of "The Property Man" on Fox Business, weighs in on the bill and how this will impact the real estate industry. FBI Deputy Director Andrew McCabe testified for nearly eight hours Tuesday on Capitol Hill, over controversy surrounding text messages exchanged between two FBI officials who worked on Robert Mueller's Russia probe. James Rosen has the details. Plus, commentary by Fox News talk radio host Tom Shillue.
Want the Fox News Rundown sent straight to your mobile device? Subscribe through Apple Podcasts, Google Play, and Stitcher.
#OnThisDay
1937: Walt Disney's first animated feature, "Snow White and the Seven Dwarfs," premieres at the Carthay Circle Theater in Los Angeles. The first Dr. Seuss book, "And to Think That I Saw It on Mulberry Street," is published by Vanguard Press.
1891: The first basketball game, devised by James Naismith, is believed to have been played at the International YMCA Training School in Springfield, Mass.
1620: Pilgrims aboard the Mayflower go ashore for the first time at present-day Plymouth, Mass.
Thank you for joining us on Fox News First! Enjoy your day, and we'll see you in your inbox first thing Friday morning.