FOX NEWS FIRST: Roy Moore hopes for boost from Trump rally; FBI director in hot seat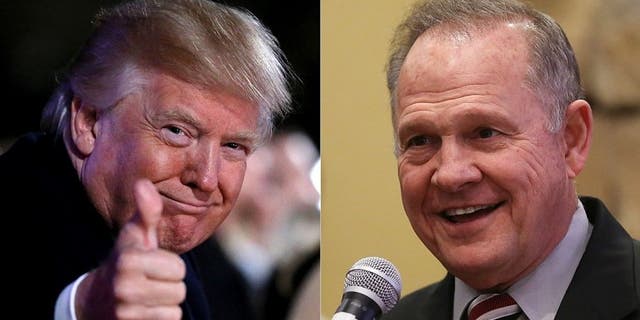 NEWYou can now listen to Fox News articles!
Welcome to Fox News First. Not signed up yet? Click here.
Developing now, Friday, Dec. 8, 2017:
Boost for Roy Moore? President Trump plans a rally in Pensacola, Fla., just days before a U.S. Senate election in neighboring Alabama
FBI Director Christopher Wray defends his agency against bias allegations amid Special Counsel Robert Mueller's Russia probe
Planned Parenthood faces a Justice Department investigation.
California firefighters battle 'unprecedented' wind gusts as wildfires destroy mobile homes and kill racehorses
Strong U.S. job gains anticipated in Labor Department's November jobs report out today
THE LEAD STORY: President Trump won't be in Alabama today, but embattled Senate candidate Roy Moore is hoping he will still get a boost from the president's visit just a few miles away ... Just days before voters go to the polls, Trump is set to headline his own campaign-style rally this evening just 25 miles away from the Alabama state line, in Pensacola, Fla., which shares a media market with Mobile, Ala. It's an easy car drive for Trump-supporting Alabamians – the type of voters the scandal-plagued Moore needs to energize if he hopes to defeat Democrat Doug Jones in a tight race. Trump's visit comes just days after the president officially endorsed Moore.
TUNE IN TONIGHT: Fox News live coverage and analysis of President Trump's rally in Pensacola, Fla., starts at 8 p.m. ET!
FBI BOSS GRILLED: FBI Director Christopher Wray faced heated questions Thursday from House Republicans concerned that top officials in his agency are "tainted by bias" in connection with both the 2016 Hillary Clinton email probe and ongoing Russia investigation ... Lawmakers' concerns were sparked by the revelation that FBI official Peter Strzok was removed from Special Counsel Robert Mueller's probe over the summer for allegedly exchanging anti-Trump texts with an FBI lawyer with whom he was romantically involved. Both worked at one time on the Mueller investigation. Strzok was also involved in the Clinton email investigation. Wray's grilling came as yet another member of Mueller's team, Jeannie Rhee, faced questions over potential bias after it was revealed that she used to represent ex-Obama aide Ben Rhodes and the Clinton Foundation. Rhee's connection to Rhodes was first revealed on Fox News by Laura Ingraham on "The Ingraham Angle" Tuesday.
PLANNED PARENTHOOD UNDER THE MICROSCOPE: The Justice Department has launched a federal investigation into Planned Parenthood's practices and the sale of fetal tissue ... In a letter first obtained by Fox News, Justice Department Assistant Attorney General for Legislative Affairs Stephen Boyd formally requested unredacted documents from the Senate Judiciary Committee, the same panel that led the congressional probe into the women's health organization. Fox News has learned that last month the FBI first requested the unredacted documents from the committee.
WILDFIRES SPREAD: A brush fire in Southern California fueled by gusty winds spread rapidly and destroyed dozens of mobile homes in a retirement community and killed racehorses at an elite training facility north of San Diego ... The fire tore through the tightly packed Rancho Monserate Country Club community in the small city of Fallbrook, known for its avocado orchards and horse ranches. Still, hundreds of elite racing horses stabled at San Luis Rey Downs in San Diego County were set free in hopes that they would escape the flames.
NOVEMBER JOBS BOOM: U.S. job growth likely increased at a strong clip in November and wages rebounded, economists forecast before today's anticipated jobs report ... According to a Reuters survey of economists, the Labor Department's closely watched employment report today will likely show that non-farm payrolls rose by 200,000 jobs last month after surging 261,000 in October. The job irregularities caused by recent hurricanes have faded, creating a portrait of a healthy economy that analysts say does not require the kind of fiscal stimulus that President Donald Trump is proposing.
AS SEEN ON FOX NEWS
'DEEP STATE' FBI?: "If that's the case, the FBI has been co-opted and corrupted... beyond perhaps even the sorriest days of the FBI's time when J. Edgar Hoover was wiretapping Martin Luther King." – House Judiciary Committee Member Louie Gohmert, on "The Story with Martha MacCallum," mulling the possibility that the FBI used the controversial Trump-Russia dossier to get a FISA warrant to wiretap him. WATCH
WHAT IF FRANKEN DOESN'T LEAVE?: "I'm not sure he's even gonna leave. ... Let's say Roy Moore is elected and is seated without an ethics investigation and then Franken turns around and says, 'Well listen, Moore is here. You're gonna throw me out but you're gonna keep Moore?'" - Political commentator Ben Shapiro, on "The Daily Briefing," questioning whether Franken will follow through on his resignation if Roy Moore is elected to the Senate. WATCH
ACROSS THE NATION
Trump tweet touts Jerusalem move, taunts past presidents.
LaVar Ball posts animated video of him dunking on Trump.
Pope Francis wants to change line of 'Our Father'.
MINDING YOUR BUSINESS
Congress passes bill to avert government shutdown, setting up pre-Christmas showdown.
Bitcoin plummets more than 12 percent to below $15,000 | Bitcoin 101
The bull market may continue in 2018, here's why.
NEW IN FOX NEWS OPINION
Modernizing the tax code will provide a long-term boost to the American economy and to middle-class workers.
America needs more bomb-sniffing dogs to keep us safe.
Roger Goodell's NFL contract is a slap in the face to all patriotic Americans.
HOLLYWOOD SQUARED
Bryan Singer sued over alleged sexual assault of 17-year-old boy on yacht.
Renee Zellweger reps have choice words for Weinstein after claims she performed 'sexual favors.'
Gal Gadot named IMDB's most popular star of 2017 for her role as Wonder Woman.
DID YOU HEAR ABOUT THIS?
Restaurant worker was fired for sharing anti-gay receipt.
'Obese' squirrel caught stealing candy from New Jersey house.
Police dashcam captures stunning footage of fireball streaking across the sky.
STAY TUNED
On Fox News:
Fox & Friends, 6 a.m. ET: Rep. Darrell Issa breaks down the Thursday's testimony from FBI Director Christopher Wray; Legal scholar Alan Dershowitz the FBI's credibility problem in Mueller's Russia probe and President Trump formally recognizing Jerusalem as the capital of Israel. Skip Bedell has holiday decorating tips, and we continue to highlight veteran-owned businesses with 'Notch Gear.'
We'll have prime-time coverage of analysis of President Trump's rally in Florida, starting with The Story with Martha MacCallum at 7 p.m. ET; Tucker Carlson Tonight at 8 p.m.; Hannity at 9 p.m.; The Ingraham Angle at 10 p.m. and Fox News @ Night at 11 p.m.
On Fox Business:
The Labor Department's jobs report will be the hot topic on Fox Business and closely analyzed by the guests below.
Mornings with Maria, 6 a.m. ET: Rep. Martha McSally on supporting the tax reform plan and whether she will run for the Senate; Lisa Erickson, head of Traditional Investments Group at U.S. Bank Wealth Management.
Varney & Co., 9 a.m. ET: Gary Cohn, National Economic Council director; Ryan Zinke; U.S. secretary of the Interior; Paul Conway, former Labor Department Chief of Staff; and Grammy-winning singer Naomi Judd discusses her new book on coping with depression.
Cavuto: Coast to Coast, Noon ET: Henry Cisneros, former HUD secretary and Robert Murray, Murray Energy CEO.
On Fox News Radio:
The Fox News Rundown podcast: This week, President Trump alleged that there was a double standard between the FBI's handling of the Clinton e-mail probe and Special Counsel Robert Mueller's Russia probe. FBI Director Christopher Wray defended the agency on Capitol Hill on Thursday. Attorney and Harvard Law Professor Emeritus Alan Dershowitz provides analysis. A gunman forced a school into lockdown in New Mexico yesterday. Authorities responded to calls in under a minute, then stopped the shooter after sneaking in through windows of the school to save the children. Former police officer John McDonald gives insight. And, a commentary by FOX News Sunday host Chris Wallace.
Want the Fox News Rundown sent straight to your mobile device? Subscribe through Apple Podcasts, Google Play, and Stitcher.
#OnThisDay
1987: President Ronald Reagan and Soviet leader Mikhail S. Gorbachev sign a treaty at the White House calling for destruction of intermediate-range nuclear missiles.
1980: John Lennon is shot to death outside his New York City apartment building by deranged fan Mark David Chapman.
1941: The United States enters World War II as Congress declares war on Imperial Japan, a day after the attack on Pearl Harbor.
Thank you for joining us on Fox News First! Enjoy your day and weekend! We'll see you in your inbox first thing Monday morning.