FOX NEWS FIRST: Republicans move to impeach Rosenstein; Deadline to reunite migrant kids with families looms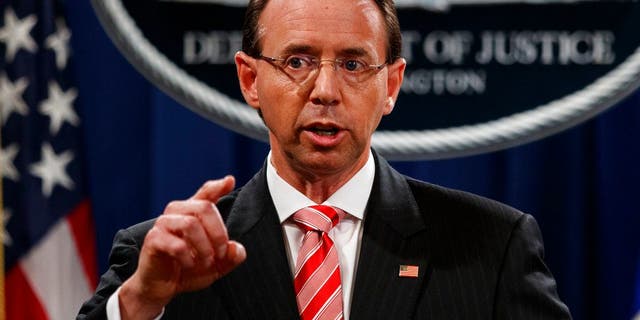 Welcome to FOX News First. Not signed up yet? Click here.
Developing now, Thursday, July 26, 2018
A group of House Republicans has introduced articles of impeachment against Deputy Attorney General Rod Rosenstein
President Trump's former lawyer Michael Cohen secretly recorded a conversation with CNN's Chris Cuomo and admitted to deciding, on his own, to pay porn star Stormy Daniels, according to one report  
Secretary of State Mike Pompeo battled both Democratic and Republican lawmakers on Russia and NATO in a tense hearing Wednesday, insisting President Trump has been tougher on the Kremlin than previous administrations
President Trump announced a 'new phase' in the relationship between the United States and European Union as both sides agreed to a cease-fire in a growing trade war
The Trump administration faces a deadline Thursday to reunite migrant children with their families
TUNE IN: Sean Hannity will talk to Roseanne Barr in an exclusive interview on 'Hannity' Thursday at 9 p.m. ET
THE LEAD STORY - LAWMAKERS MOVE TO IMPEACH ROSENSTEIN - A group of 11 House Republicans introduced five articles of impeachment against Deputy Attorney General Rod Rosenstein on Wednesday evening ... The filing accuses Rosenstein of intentionally withholding documents and information from Congress, failure to comply with congressional subpoenas and abuse of the Foreign Intelligence Surveillance Act (FISA). It was not immediately clear whether the House of Representatives would consider the resolution before lawmakers begin the August recess Thursday afternoon. The House will reconvene Sept. 4.
The articles were introduced by Reps. Mark Meadows of North Carolina and Jim Jordan of Ohio, the chairman and a prominent member of the conservative House Freedom Caucus. In an exclusive interview on Fox News' "The Ingraham Angle" on Wednesday night, Meadows said it would be possible to effect a so-called "privileged" resolution on impeaching Rosenstein as early as Thursday morning, which would require a vote within two days -- although the impending House recess would likely delay that vote unless it were held quickly. Both Meadows and Jordan told host Laura Ingraham the effort was long overdue.
'I DID IT ON MY OWN': Michael Cohen, President Trump's former lawyer, secretly recorded a conversation with CNN's Chris Cuomo and admitted in the tape to arranging—on his own — a $130,000 payment to Stormy Daniels in 2016, the Wall Street Journal reported late Wednesday, citing unnamed sources. ... The recording — which is about two-hours long — included topics ranging from the alleged years-old Trump affair with the former porn star to the payment, the report said.
The reported tape could potentially be used by the White House to distance Trump from the Daniels payment and damage Cohen's reputation. Cohen reportedly assured Cuomo that he was not taping their conversation, and put the phone in his desk drawer. The phone appears to record the whole conversation. "I did it on my own," Cohen said about the payment in the recording, according to the Journal.
POMPEO SPARRING SESSION: Secretary of State Mike Pompeo clashed with lawmakers on both sides of the aisle during a tense Senate hearing on Wednesday, as he took a firm line on Russia amid criticisms that the Trump administration has been soft on Moscow ... The hearing marked the administration's highest-profile chance to address the sustained criticism over last week's summit between President Trump and Russian President Vladimir Putin in Helsinki, Finland. Pompeo declared that the U.S. would never recognize the Kremlin's annexation of Crimea, and threatened "severe consequences" for any future meddling in America's elections.
Senate Foreign Relations Committee Chairman Bob Corker, R-Tenn., sharply criticized the Helsinki meeting at the opening of Wednesday's hearing, saying the White House has a "ready, fire, aim" approach and is "waking up every morning and making it up as they go." In a dramatic moment, Corker pressed Pompeo to explain what he characterized as Trump's "purposeful" efforts to sow misinformation and discord. Pompeo responded that Trump has had a direct role in the administration's aggressive actions against Russia, saying "this administration has been tougher than previous administrations" on Putin.
As the secretary of state battled lawmakers, the Trump administration announced it was putting off a proposed follow-up fall summit between Trump and Putin until 2019. National security adviser John Bolton cited special counsel Robert Mueller's "witch hunt" investigation into Russian interference in the 2016 election as the reason for the delay.
AVERTING A TRADE WAR: President Trump announced that he has secured major trade concessions from European Union officials as part of an effort to head off a trade war between the U.S. and the E.U. ... After talks at the White House with E.U. officials, Trump announced in a joint Rose Garden appearance Wednesday with European Commission President Jean-Claude Juncker that the delegation had agreed to increase imports of soybeans and liquefied natural gas. Both sides agreed to work toward the goal of "zero" tariffs and subsidies on non-auto industrial goods, and to "resolve" recent tariffs that both sides have imposed. Trump said officials are looking to reduce "bureaucratic obstacles," work toward reform of the World Trade Organization, and limit unfair market practices.
"We had a big day, very big," the president said. "We set out to launch a new phase of close friendship between the United States and the European Union, strong trade relationships where both of us will win." Juncker said that as long as negotiations are ongoing, "we will hold off on further tariffs and reassess existing tariffs on steel and aluminum."
'I'M NOT A RACIST': Homeland Security Secretary Kirstjen Nielsen has told members of Congress that the government is "on track" to meet Thursday's court-ordered deadline of reuniting hundreds of migrant children with their families, lawmakers who met privately with her told the Associated Press ... Nielsen's claim was greeted with open disbelief and anger, according to many of the roughly 20 members of the Congressional Hispanic Caucus — all Democrats — who attended.
A federal judge has given the administration until Thursday to reunite 2,551 separated children age 5 and older. The Justice Department said in a court filing Monday that 1,187 children had been reunited with parents, sponsors and guardians by the Health and Human Services Department's Office of Refugee Resettlement.
Still, the private, hourlong meeting seemed to achieve little toward dousing lawmakers' criticism of how children taken from their parents are being handled. Nielsen told the group, "I am not a racist," according to two lawmakers. One of them, Rep. Luis Gutierrez, D-Ill., said she made the remark after he told her she worked for a "racist regime." In an interview with FOX News' Bret Baier on Tuesday, Nielsen said authorities were mainly concerned about the welfare of the migrant children and family reunions were "in part ... up to the parents." "We really want to protect the children," Nielsen added. "So, we don't want to cut corners. We want to make sure they're going with a parent. We want to make sure they're going with somebody that won't cause them any harm."
PROGRAMMING ALERT: 'HANNITY' EXCLUSIVE WITH ROSEANNE BARR - Embattled TV star Roseanne Barr will join Sean Hannity at 9 p.m. ET Thursday for her first televised interview since ABC fired her over a racist tweet directed toward former Obama adviser Valerie Jarrett ... Hannity announced the exclusive, in-studio interview on his show Tuesday. Barr is expected to discuss the tweet that led to her firing, ABC's decision and her ardent support of President Trump. The 65-year-old actress-comedian has expressed her disagreement with ABC's decision, arguing she did not know the Iranian-born Jarrett is African-American. Don't miss the exclusive "Hannity" interview, with a second part airing on Friday's show.
AS SEEN ON FOX NEWS
SICK AND TIRED: "We're tired of the Justice Department giving us the finger. The American people are sick of it." – Rep. Jim Jordan, R-Ohio, on "The Ingraham Angle," explaining why he helped introduce articles of impeachment against Deputy Attorney General Rod Rosenstein. WATCH
HEAR NO EVIL, SEE NO EVIL: "The thing that strikes me ... I've got to tell you that [Pompeo] looked like Sergeant Schultz [during the hearing] ... I see nothing, I see nothing." – Juan Williams, on "The Five," ripping Secretary of State Mike Pompeo's testimony in a Senate Foreign Relations Committee hearing, where he was grilled about President Trump's summit with Vladimir Putin. WATCH
TRENDING
Small bomb explodes outside U.S. Embassy in Beijing, suspect injured: report
Dozens heard Amelia Earhart radio for help after crashing into Pacific: report.
CNN correspondent blocked from White House press event.
Oklahoma girl catches fish with 'human-like' teeth.
Michigan town elects cat Sweet Tart McKee as mayor.
THE SWAMP
Supreme Court pick Brett Kavanaugh supported by most GOP governors in letter: A look at who didn't sign it.
'Never Nancy' Dem admits he could vote for Pelosi as speaker, fueling blast from the GOP.
Democratic candidate for NC legislature drops out after 'Mexicans' rant resurfaces.
ACROSS THE NATION
U.S. anticipates North Korea will return remains of 55 service members on Friday, official says.
9/11 victim reportedly ID'ed 17 years later due to DNA testing.
Dallas Cowboys players must stand for anthem, Jerry Jones says.
Marine convicted of involuntary manslaughter in stabbing death of private at Camp Pendleton.
MINDING YOUR BUSINESS
GM earnings: Trump tariffs take a bite out of automaker's 2018 profit forecast.
Facebook plunges 20 percent as revenue, user growth disappoint.
How the new tax law creates a 'perfect storm' for Roth IRA conversions.
Narcan inventor: Opioid crisis at epidemic proportions.
Mattel to cut 2,200 jobs amid losses.
Remembering former Fiat Chrysler CEO Marchionne.
FOX NEWS OPINION
Judge Andrew Napolitano: Farewell to someone I loved with all my heart.
Tammy Bruce: America avoided a disaster -- Look at the Clintons and their pal Harvey Weinstein.
Michael Graubart: Dear Demi Lovato – A letter of hope from a fellow recovering addict.
HOLLYWOOD SQUARED
Jane Fonda revisits 'Hanoi Jane' scandal: 'It's just horrible for me to think of that.'
Chris Hardwick to return to AMC after sexual assault claims.
John Oliver talks mocking Trump on 'Last Week Tonight': 'It's the gift that keeps on giving'
DID YOU HEAR ABOUT THIS?
Florida man's 826-pound bluefin tuna catch becomes new state record.
Group tries to revive ghost towns across the South before they vanish.
'Amazing dragon' dinosaur discovered in China.
STAY TUNED
On Facebook:
Check out 'FOX News Update,' our new Facebook-exclusive news program hosted by Shepard Smith, Carley Shimkus and Abby Huntsman!
On FOX News:
FOX & Friends, 6 a.m. ET: Special guests include: Judge Andrew Napolitano; Sen. Cory Gardner; Kellyanne Conway, counselor to President Trump; Bob Massi; Rep. Liz Cheney with her chief of staff's dog, Hank. And Todd Piro has breakfast with "Friends" in Louisiana.
Tucker Carlson Tonight, 8 p.m. ET: Special guest: Commentator and analyst Stephen LeDrew.
Hannity, 9 p.m. ET: Don't miss Sean Hannity's exclusive interview with Roseanne Barr!
On FOX Business:
Mornings with Maria, 6 a.m. ET: Special guests include: Commerce Secretary Wilbur Ross; Energy Secretary Rick Perry; Todd Nelson, Kalahari Resorts and Convention Centers owner; Rep. Tom Reed; Amb. Paul Wolfowitz; Richard Gelfond, IMAX CEO; Rep. Kristi Noem.
Cavuto: Coast to Coast, Noon ET: Sen. John Hoeven.
On FOX News Radio:
The FOX News Rundown podcast: Secretary of State Mike Pompeo sparred with a number of Senate Foreign Relations Committee members over President Trump's closed door one-on-one meeting with Russian President Vladimir Putin in Helsinki. Two experts join the podcast to weigh in on the testimony and its fallout. In wake of last week's fatal accident that killed 17 in Branson, Mo., many are calling for tighter rules and regulations on duck boats. Jim Hall, former chairman of the National Transportation Safety Board, weighs in. Plus, commentary from Brian Kilmeade.
Want the FOX News Rundown sent straight to your mobile device? Subscribe through Apple Podcasts, Google Play, and Stitcher.
The Brian Kilmeade Show, 9 a.m. ET: Legal scholar Jonathan Turley and Steve Doocy on the move to impeach Deputy Attorney General Rosenstein and the latest Michael Cohen tapes. Chris Wallace on his interview with Putin, Pompeo's contentious hearing and impeaching Rosenstein. Charles Payne and David McIntosh Trump and the EU averting a trade war and the state of the U.S. economy. And Frank Siller, chairman and CEO of the Stephen Siller Tunnel to Towers Foundation, previews his organization's next event.
#OnThisDay
2002: The Republican-led House votes, 295-132, to create the Homeland Security Department in the biggest government reorganization in decades.
1990: President George H.W. Bush signs the Americans with Disabilities Act.
1775: The Continental Congress establishes a Post Office and appoints Benjamin Franklin its postmaster-general.
FOX News First is compiled by FOX News' Bryan Robinson. Thank you for joining us! Enjoy your day! We'll see you in your inbox first thing Friday morning.