FOX NEWS FIRST: North Korea threatening to pull out of summit over nukes, drills; 'Red' alert over Hawaii volcano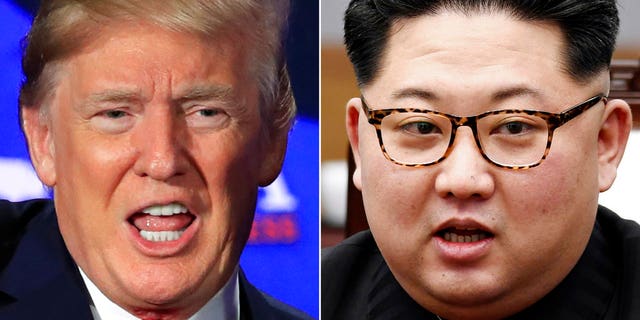 Welcome to Fox News First. Not signed up yet? Click here.
Developing now, Wednesday, May 16, 2018
The historic summit between President Trump and Kim Jong Un could be in jeopardy as North Korea reportedly objects to U.S. demands that country give up its nuclear weapons and to American air force drills taking place in South Korea
Two Trump-backed candidates, Lou Barletta in Pennsylvania and Deb Fischer in Nebraska, won their U.S. Senate primaries as four states held primary elections Tuesday
President Trump's choice to lead the CIA, Gina Haspel, picks up key Democratic support before Wednesday's vote by the Senate Intelligence Committee and ahead of a full confirmation vote later this week
Hawaii residents are on the highest alert as authorities warn the Kilauea volcano is growing more volatile and that an eruption could be imminent
THE LEAD STORY - NORTH KOREA PREDICTABLY UNPREDICTABLE: North Korea threw potential doubt onto next month's highly anticipated summit between President Trump and dictator Kim Jong Un as the regime reportedly said the United States must stop insisting it "unilaterally" abandon its nuclear program ... The warning, issued by former North Korean nuclear negotiator Kim Gye Gwan, came hours after North Korea canceled a high-level summit with South Korea and threatened to cancel its meeting with the United States over American military drills with South Korea. KCNA, North Korea's state media outlet, claimed that the military drills were a rehearsal for a potential invasion of the country. Trump announced last week that the meeting with Kim would take place in Singapore on June 12. State Department Spokesperson Heather Nauert said they had not received any "formal or even informal notification of anything," and are continuing to plan the summit.
PRIMARY TUESDAY ROUNDUP: President Trump backed two successful U.S. Senate nominees in Pennsylvania and Nebraska, which were among four states holding primaries Tuesday ... Four-term U.S. Rep. Lou Barletta, R-Pa., a staunch supporter of Trump, won the Republican nomination. Trump-backed U.S. Sen. Deb Fischer notched an easy Republican primary victory in Nebraska, despite challenges from four GOP candidates who sought to take her seat. Oregon state Rep. Knute Buehler won the GOP gubernatorial primary, besting a crowded field vying to compete against incumbent Democrat Kate Brown in November. Social worker and political newcomer Kara Eastman won the Democratic nomination for Nebraska's 2nd Congressional District, defeating former Rep. Brad Ashford in a close race. She will face first-term Republican Rep. Don Bacon, who was unopposed in his primary.
HEADED FOR CONFIRMATION: President Trump's pick to lead the CIA, Gina Haspel, appeared headed for confirmation as she picked up endorsements from key Democrats ahead of the pivotal vote expected later this week ... Vice Chairman of the Senate Intelligence Committee Mark Warner, D-Va., Sen. Heidi Heitkamp, D-N.D., and Sen. Bill Nelson, D-Fla., all offered support to Haspel on Tuesday afternoon. These endorsements follow Haspel support from Democratic Sens. Joe Manchin and Joe Donnelly. All but Warner are facing tough re-election races this year. Haspel was nominated to replace former CIA director and now-Secretary of State Mike Pompeo. Senate Majority Leader Mitch McConnell, R-Ky., said her confirmation vote will be held this week. A Senate Intelligence Committee vote is expected Wednesday.
RED ALERT IN HAWAII: Hawaii residents are facing the highest volcanic activity alert after officials warned that the Big Island's Kilauea volcano is growing more explosive -- as a massive ash cloud grows in the sky ... The U.S. Geological Survey upgraded its previous volcano warning from "orange" to "red," signifying that an "eruption is forecasted to be imminent with significant emission of ash into the atmosphere likely," or that an eruption is already underway. Nearly 20 fissures have opened since the Kilauea volcano started erupting 12 days ago. On Monday, another fissure spewing lava and unhealthy gas opened up, and a crack in the Earth that emerged a day earlier was sending molten rock on a slow run for the ocean, officials said.
AS SEEN ON FOX NEWS
F--- THE FACTS: "You don't know what you're talking about. Facts work. Why don't you get some?" – Tucker Carlson, on "Tucker Carlson Tonight," to Pat Davis, a Democrat running for Congress in New Mexico, who dropped the F-bomb in an anti-NRA ad. WATCH
GOP 'AMNESTY FANATICS': "These representatives should be ashamed. By defying their leadership, they are demoralizing the base of the GOP and weakening unity before the midterms. Rather than keeping a focus on the booming economy, these Republicans have decided it is in their political interest to turn the spotlight to immigration and the DACA kids, even if it means handing power over to the opposing party to do it." – Laura Ingraham, on "The Ingraham Angle," blasting 18 Republican members of Congress who signed a "discharge petition" in hopes of bringing a slew of liberal immigration measures to the floor for a vote. WATCH
THE SWAMP
DOJ responds to request for info on Comey's law professor friend.
'Lehman Sisters' could have averted financial collapse, Sen. Gillibrand says at feminist panel.
'I gave the US trucks and ammunition to Al Qaeda': The chaotic U.S. effort to arm Syrian rebels.
THE ROYAL WEDDING: PRINCE HARRY AND MEGHAN MARKLE
Karol Markowicz: Meghan Markle proves that no matter who you are, you can be anything in America, even British royalty!
Meghan Markle's family drama causing a stir among Londoners.
Meghan Markle's uninvited family members land in London.
American women think Meghan Markle's wedding dress will look very traditional, survey finds.
TUNE IN: Don't miss Fox News' live coverage of the royal wedding this Saturday, starting at 5 a.m. ET!
ACROSS THE NATION
Deadly blast in Southern California medical building investigated as intentional: Report
Disgraced Parkland school cop starts getting $8,702-a-month pension.
Spikes in chlamydia, gonorrhea and syphilis take STDs to record highs in California.
Two hikers found dead in Sequoia National Park.
MINDING YOUR BUSINESS
Starbucks looks to double stores in China and triple revenue.
Amazon cuts Whole Foods prices for Prime members.
Buffett's company doubles investment in drugmaker Teva.
Where Panthers' $2.2 billion sale ranks among richest deals in U.S. sports history.
Just graduated? Here are the best and worst places to launch a career.
Need a job? These Midwest towns will pay you to relocate.
FOX NEWS OPINION
Kay Coles James: It's time to make Congress prove it can curb its out-of-control spending habit.
Rep. Marsha Blackburn: U.S. Embassy move to Jerusalem signals that America stands with Israel.
Liz Peek: Trump is right -- McConnell should shut down Democratic obstruction in the Senate.
HOLLYWOOD SQUARED
ABC set to dial back political humor from pro-Trump 'Roseanne' next season.
CBS breaks silence on 'NCIS' star Pauley Perrette's allegations.
Childish Gambino's 'This Is America' tops charts as debate over song, music video continues.
DID YOU HEAR ABOUT THIS?
Wisconsin police department congratulates high school students on prank.
14-year-old hunter's encounter with bear cub goes viral.
Scientists sucked a memory out of a snail and stuck it in another snail.
STAY TUNED
On Fox News:
Fox & Friends, 6 a.m. ET: Outrage in Philadelphia after a public school displays anti-NRA and anti-GOP signs; 'Fox & Friends' takes a closer look. President Trump pays tribute to fallen NYPD Officer Miosotis Familia at the annual National Peace Officers' Memorial; Officer Familia's children joins the show. Trump supporter Eugenior Joseph recounts being berated at Cheesecake Factory. Home improvement expert Skip Bedell has tips to spruce up your backyard.
On Fox Business:
Mornings with Maria, 6 a.m. ET: Guests include: Neil Everitt, Brockmans CEO; Lanhee Chen, former policy director for Mitt Romney; Sen. John Kennedy, R-La.; Dan Conn, chief executive officer of Christie's International Real Estate.
Varney & Co., 9 a.m. ET: Gayle Dickie, founder and CEO of Gamer World News Entertainment; Rep. Leonard Lance; Beth Lindstrom, Massachusetts Senate candidate.
Cavuto: Coast to Coast, Noon ET: Rep. Dave Brat.
The Intelligence Report, 2 p.m. ET: Corey Lewandowski, former Trump campaign manager.
After the Bell, 4 p.m. ET: Michelle Steel, Orange County, Calif. superviser; Rep. Leonard Lance.
The Evening Edit, 5 p.m. ET: Guests include: House Ways and Means Committee Chair Kevin Brady.
On Fox News Radio:
Benson & Harf, 6 p.m. ET: Don't miss the new show hosted by Guy Benson, political editor at Townhall.com and Marie Harf, former senior adviser of strategic communications at the State Department.
The Fox News Rundown podcast: Missouri Republican Gov. Eric Greitens has the GOP worried that a pair of scandals could derail their hopes for victory in the midterm elections. Fox News' Matt Finn and Fox News political director Chris Stirewalt discuss the governor's political impact. The city of Seattle announced a new tax on large employers, like Amazon, that is said to help fund homelessness and affordable housing programs. Fox News' Seattle-based correspondent, Dan Springer, discusses opposition to the ordinance and why some believe it's a step in the right direction. Plus, commentary by Dr. Marc Siegel.
Want the Fox News Rundown sent straight to your mobile device? Subscribe through Apple Podcasts, Google Play, and Stitcher.
The Brian Kilmeade Show, 9 a.m. ET: Guests include: David Acela; Jonathan Swan; Home Depot founder Ken Langone; Amb. John Bolton; William McGurn; Bill Hemmer.
#OnThisDay
1988: Surgeon General C. Everett Koop releases a report declaring nicotine is addictive in ways similar to heroin and cocaine.
1939: The federal government begins its first food stamp program in Rochester, N.Y.
1868: At the U.S. Senate impeachment trial of President Andrew Johnson, 35 out of 54 senators vote to find Johnson guilty of "high crimes and misdemeanors" over his attempted dismissal of Secretary of War Edwin M. Stanton, falling one vote short of the two-thirds majority needed to convict; the trial would end 10 days later after two other articles of impeachment went down to defeat as well.
Fox News First is compiled by Fox News' Bryan Robinson. Thank you for joining us! Enjoy your day! We'll see you in your inbox first thing Thursday morning.