FOX NEWS FIRST: New revelations about anti-Trump texts as Deputy AG faces hot seat on FBI, Russia probe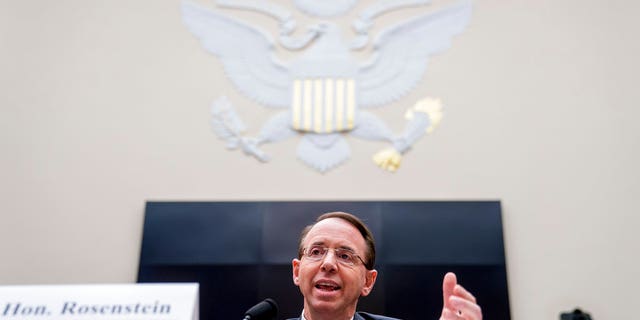 Welcome to Fox News First. Not signed up yet? Click here.
Developing now, Thursday, Dec. 14, 2017:
Watchdog group reveals how FBI agents' anti-Trump texts came to light – while Deputy AG Rod Rosenstein gets grilled on Capitol Hill
Republican Roy Moore posts a YouTube video, refusing to concede defeat in Alabama's Senate election
Congressional Republicans reach a deal on tax reform, clearing the way for a final vote
Tavis Smiley rips PBS after network suspends distribution of his show following allegations of sexual misconduct
THE LEAD STORY: The anti-Trump texts between two former members of Robert Mueller's team investigating Russian interference in the 2016 presidential election first surfaced after a Justice Department watchdog requested messages from the government-issued phones of several FBI employees involved in the Hillary Clinton email investigation ... Peter Strzok, a former deputy to the assistant director for counterintelligence at the FBI, played a key role in the email probe, changing former FBI Director James Comey's early draft language about Clinton's actions from "grossly negligent" to "extremely careless" and conducting the FBI interview of Clinton over the July 4 weekend in 2016. According to DOJ Inspector General Michael Horowitz, "politically oriented" text messages between Strzok and Lisa Page were found in his office's initial search. That led to the watchdog requesting all messages between the two through the end of November 2016. Those messages were produced by the FBI on July 20 of this year and Mueller and Rosenstein were informed about them a week later, on July 27.
NOT GIVING UP: Republican Roy Moore is still not conceding defeat after Democrat Doug Jones claimed victory in Alabama's special election for a U.S. Senate seat ... In a video posted to YouTube on Wednesday night, Moore says his campaign is still waiting for the election results to be certified by the Alabama secretary of state. Moore notes that military and provisional ballots remained to be counted, and laments that the race was "tainted by over $50 million from outside groups who want to retain power and their corrupt ideology." Election results showed that Jones defeated Moore by 49.9 percent to 48.4 percent.
TAX CUTS FOR CHRISTMAS?: House and Senate GOP leaders have forged an agreement on a sweeping overhaul of the nation's tax laws, paving the way for final votes next week to slash taxes for businesses, give many Americans modest cuts and deliver President Trump's first major legislative accomplishment ... Top GOP aides, speaking on the condition of anonymity, said lawmakers had reached an agreement in principle on the final package. The broad parameters of the deal call for cutting the top tax rate for the wealthy from 39.6 percent to 37 percent, slashing the corporate rate to 21 percent and allowing homeowners to deduct interest on the first $750,000 of a new mortgage. One congressional aide said the deal was contingent on whether late changes to the bill still complied with budget rules adopted by both the House and the Senate.
'BIASED AND SLOPPY': Tavis Smiley, the longtime talk show host, blasted PBS for its "so-called investigation" into his alleged sexual misconduct ... Smiley, whose nightly program has aired on PBS since 2004, flatly denied PBS's accusations that he had behaved inappropriately in the workplace. Variety reported that the allegations involved sexual misconduct with co-workers. Smiley said on Facebook he had "never groped, coerced, or exposed myself inappropriately to any workplace colleague in my entire broadcast career, covering 6 networks over 30 years," adding for emphasis: "Never. Ever. Never."
AS SEEN ON FOX NEWS
LESSONS FROM ALABAMA: "[Jones' win] is an end result of what Mitch McConnell did at the start ... What the Republicans and what the president must learn is that the establishment interfered from the beginning." – Columnist and radio host Tammy Bruce, on "Tucker Carlson Tonight," sounding off on why Democrat Doug Jones won Alabama's special election for the Senate. WATCH
FBI ON TRIAL: "The notion that three bureau agents would be conspiring or plotting on how to handle the outcome of the presidential election is the opposite of what you want in an objective, dispassionate, neutral FBI." - Rep. Trey Gowdy, on "The Story with Martha MacCallum," on how perceived conflicts of interest in Robert Mueller's probe of President Trump have hurt the FBI's and DOJ's standing in the public's view. WATCH
ACROSS THE NATION
Kentucky State Rep. Dan Johnson commits suicide after sexual assault accusations emerge, officials say.
Report: Omarosa 'physically dragged' from White House grounds.
Bill banning Down syndrome abortions passes in Ohio.
MINDING YOUR BUSINESS
Disney finalizing pact to acquire assets from 21st Century Fox.
As 'net neutrality' vote nears, some brace for a long fight.
Bitcoin and taxes: What you need to know.
NEW IN FOX NEWS OPINION
Judge Andrew Napolitano: ISIS-inspired monsters in our midst cannot inspire us to cast aside the Constitution.

Liberal women go into hysterics attacking Sarah Sanders, but they don't speak for most women.
Five years after Sandy Hook, we remember when Christmas disappeared.
HOLLYWOOD SQUARED
CNN now blames Anderson Cooper's assistant, mysterious gym 'hacker,' for crude insult to Trump.
'Last Jedi' star Daisy Ridley: Rey 'doesn't quite know what is going through her mind' | 'Star Wars' by the numbers
Philip Seymour Hoffman's partner Mimi O'Donnell details late actor's horrifying drug addiction.
DID YOU HEAR ABOUT THIS?
Heartbreaking video of starving polar bear stirs controversy among conservationists.
Iowa school district apologizes to student in cancer recovery for dress code punishment.
Most bizarre college courses 2017: 'Hooking up,' 'Queer Religion' and 'sexy' vampires.
STAY TUNED
On Fox News:
Fox & Friends, 6 a.m. ET: An exclusive interview with Homeland Security Secretary Kirstjen M. Nielsen; House Judiciary Chairman Bob Goodlatte breaks down Deputy Attorney General Rod Rosenstein's testimony on alleged "insider bias" in Special Counsel Robert Mueller's Russia probe; Folds of Honor founder Major Dan Rooney joins "Cooking with Friends."
Tucker Carlson Tonight, 8 p.m. : Legal scholar Alan Dershowitz takes on Villanova's new politically correct policies for its faculty.
On Fox Business:
The very latest in negotiations for a tax reform package and the quest to avoid a government shutdown will be the main hot topics on Fox Business with analysis from the following guests below!
Mornings with Maria, 6 a.m. ET: Tony Sayegh, assistant secretary of public affairs for the U.S. Treasury; Rep. Brian Babin; Grover Norquist, president of Americans for Tax Reform President and Rep. Fred Upton.
Varney & Co., 9 a.m. ET: Sen. John Kennedy
Countdown to the Closing Bell, 3 p.m. ET: IMAX CEO Rich Gelfond on the anticipated blockbuster box office's numbers from "Star Wars: The Last Jedi"; Overstock CEO Patrick Byrne addresses reports he's considering selling his business.
On Fox News Radio:
The Brian Kilmeade Show, 9 a.m. to Noon ET: Former Indiana Gov. Mitch Daniels and Small Business Administration administrator Linda McMahon talk the latest in tax reform; Rep. Matt Gaetz sounds off on alleged political bias Mueller's Russia probe and Deputy Attorney General Rod Rosenstein's testimony Wednesday before the House Judiciary Committee.
The Fox News Rundown podcast: Check out the Fox News Rundown! Fox News Radio's new long-form podcast features insights from top newsmakers, along with reporters and contributors from across all Fox News Channel platforms. All episodes of this podcast can be found at: www.foxnewsrundown.com. Want it sent straight to your mobile device? Subscribe through Apple Podcasts, Google Play, and Stitcher.
#OnThisDay
2012: Adam Lanza shoots and kills 20 children and 6 adults at the Sandy Hook Elementary School in Newtown, Conn.
1939: The Soviet Union is expelled from the League of Nations for making aggressive demands of Finland.
1911: Norwegian explorer Roald Amundsen and his team become the first men to reach the South Pole.
Thank you for joining us on Fox News First! Enjoy your day, and we'll see you in your inbox first thing Friday morning.