FOX NEWS FIRST: Fleeing Florence; Bannon believes Trump White House conspiracy is widespread; 17 years after 9/11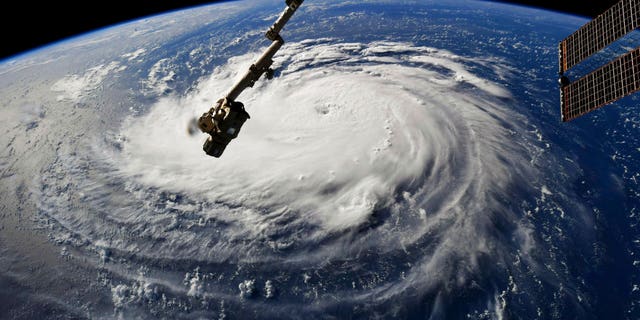 Welcome to FOX News First. Not signed up yet? Click here.
Developing now, Tuesday, Sept. 11, 2018
Hurricane Florence could strengthen into a Category 5 storm as it takes aim at the Carolinas. More than 1 million people have been ordered to evacuate
Tuesday marks 17 years since the Sept. 11, 2001 terrorist attacks on the United States. The nation will remember the fallen in ceremonies at the World Trade Center, the Pentagon, and Shanksville, Pa.
In an exclusive interview with FOX News' Laura Ingraham, former White House strategist Steve Bannon says he believes the anonymous New York Times op-ed is part of a larger conspiracy against President Trump potentially involving several members of the administration
Newly-surfaced text messages between former FBI officials (and lovebirds) Peter Strzok and Lisa Page have raised concerns about a government  'culture of media leaking' designed to harm President Trump, a Republican congressman says
In an interview with FOX News' Tucker Carlson, Clinton-era Independent Counsel Ken Starr said he has 'concerns' about Russia Special Counsel Robert Mueller's team as Starr's new book reveals he considered perjury charges against Hillary Clinton
The Trump administration has threatened to impose sanctions on the International Criminal Court if it continues to investigate alleged U.S. war crimes in Afghanistan
THE LEAD STORY - FLEEING FLORENCE: President Donald Trump late Monday approved an emergency declaration for North Carolina as 'life-threatening' Hurricane Florence barrels toward the Carolinas and is expected to strengthen to a Category 5 storm … The president's action authorizes the Department of Homeland Security and FEMA to coordinate disaster relief efforts for "the hardship and suffering caused by the emergency on the local population," a White House statement said, according to South Carolina's The State. State and local officials in the Carolinas and Virginia have ordered around 1.5 million people to evacuate, The Washington Post reported.
The hurricane had sustained winds of 140 mph and remained a Category 4 storm Monday. Scientists warn, however, that the unusually warm water could accelerate the storm's winds to 155 mph -- nearly Category 5 intensity, the Post reported. Florence is expected to make landfall on Thursday and could become one of the most catastrophic hurricanes to hit the Eastern Seaboard in decades.
9/11 - NEVER FORGET: Americans will pause to reflect on the Sept. 11, 2001 terrorist attacks that forever changed the nation as they remember those who died that fateful in ceremonies nationwide ... Thousands of 9/11 victims' relatives, survivors, rescuers and others are expected at Tuesday's ceremony at the World Trade Center in New York City. The president and first lady Melania Trump plan to join an observance at the Sept. 11 memorial in a field near Shanksville, Pennsylvania, where a new "Tower of Voices" was dedicated Saturday. Pence is attending a ceremony at the Pentagon.
Although this year's anniversary comes as the heated November midterm elections loom, politicians and candidates are expected to pause their campaigns for one day. Quiet reflection on 9/11 is designed to remind a nation of the ties that bind us, not divide us - and that we will never let terrorists change our way of life.
EXCLUSIVE: A WIDESPREAD CONSPIRACY AGAINST TRUMP FROM WITHIN? - Steve Bannon, the former White House strategist, told FOX News on Monday that he believes last week's annonyous op-ed in The New York Times by a 'senior' White House official was likely developed by "six to a dozen" members of the administration ... "I don't think there's any one author," he told Laura Ingraham, host of "The Ingraham Angle." "There are many voices in there … I think that's a much broader conspiracy than people think. I think it's probably six to a dozen people."
'MEDIA LEAKING STRATEGY': New documents provided to Congress raise "grave concerns" about an "apparent systemic culture of media leaking" among high-level FBI and Justice Department officials to release information damaging to President Trump, a top Republican congressman charged in a letter to Deputy Attorney General Rod Rosenstein on Monday ... In the letter, Rep. Mark Meadows, R-N.C., points in particular to two text message exchanges in April 2017 between now-fired FBI agent Peter Strzok and former FBI attorney Lisa Page, in which the two discuss the bureau's "media leak strategy."
"I had literally just gone to find this phone to tell you I want to talk to you about media leak strategy with DOJ before you go," Strzok texted Page on April 10, 2017, according to Meadows, who cited newly produced documents from the Justice Department.
Two days later, Strzok wrote, "Well done, Page," and told her that two negative articles about Page's "namesake" would soon come out. That was an apparent reference to Carter Page, the former Trump adviser whom the FBI surveilled for months after obtaining a warrant from the Foreign Intelligence Surveillance Act (FISA) court.
STARR CHAMBER REVISITED: Clinton-era Independent Counsel Kenneth Starr said Monday on "Tucker Carlson Tonight" that he has "concerns" about the team surrounding Special Counsel Robert Mueller ... While Starr applauded the indictments Mueller brought against 12 Russian military intelligence officers in July regarding the hacking of the Democratic National Committee during the 2016 election, he isn't comfortable the special counsel almost exclusively hiring partisan Democrats onto his team. "I have great confidence in Bob Mueller as a person," Starr said. "I do have concerns about the people around him."
Starr's comments came as excerpts from his new memoir revealed that he considered -- but ultimately abandoned -- the idea of perjury charges against then-first lady Hillary Clinton after her "preposterous" deposition with investigators in 1995.
AN 'UNJUST' COURT: The Trump administration has vowed to protect its citizens from unjust prosecution and threatened to impose sanctions on the International Criminal Court if it continues to investigate alleged U.S. war crimes in Afghanistan ... "The United States will use any means necessary to protect our citizens and those of our allies from unjust prosecution by this illegitimate court," National security adviser John Bolton, a longtime critic of the ICC, told the Federalist Society at a gathering in Washington, D.C. Bolton's speech, given on the eve of the anniversary of the 9/11 terrorist attacks, came as an ICC judge was expected to soon announce a decision on whether to formally open an investigation into allegations of war crimes committed by Afghan national security forces, Taliban and Haqqani network militants, and U.S. forces and intelligence in Afghanistan since May 2003. The accusations against U.S. personnel include torture and illegal imprisonment.
AS SEEN ON FOX NEWS
TRUMP'S UNIVERSE: "Right now, Obama is just another asteroid in Trump's galaxy. It's just another person that is fighting him and it just makes them look smaller." – Greg Gutfeld, on "The Five," slamming former President Barack Obama for taking credit for the current economic surge under President Trump. WATCH
OBAMA'S REVISIONIST HISTORY: "It is offensive to the men and women who served in Libya, who served this country and who serve in the United States military, because that president -- President Obama -- failed to act. He is fundamentally and totally and fully wrong. ... Shame on the president for saying that." – Former congressman Jason Chaffetz, on "America's Newsroom," blasting Obama for accusing Republicans of embracing "wild conspiracy theories, like those surrounding Benghazi, or my birth certificate." WATCH
IN THE SPOTLIGHT
Two more US service members' remains ID'd in North Korea handover.
Howard Kurtz: Why the New Yorker left CBS no choice but to can Moonves.
FOX Business' Kennedy: Why Jim Carrey is wrong about socialism.
TRENDING
Hollywood grande dame Carole Cook goes after Trump: 'Where's John Wilkes Booth when you need him?'
Maxine Waters goes on Trump 'impeachment' tear, vows to 'get him.'
Ohio grocery store employee facing felony theft charges for eating $9,200 of deli ham.
THE SWAMP
'Minibus' funding bill moves forward as lawmakers cheer bipartisan deal.
Republicans' Senate majority in jeopardy? Tight races raise alarm.
Trump 'scared' military chiefs with suggestion of pulling U.S. military families out of South Korea, according to Woodward book.
ACROSS THE NATION
GoFundMe couple will likely face indictment, lawyer says.
Arrest affidavit of Dallas police officer who killed neighbor sheds light on controversy.
GRAPHIC VIDEO: LAPD releases video of officer being shot at point-blank range during traffic stop.
MINDING YOUR BUSINESS
Price of iPhones may rise 20 percent if Apple gives in to Trump's pressure.
Trump touts U.S. economic growth: Fact check.
Boeing ups 20-year forecast for plane purchases by China.
Why Subway's $5 Footlongs may become hard to find, or impossible.
College students reinvent furniture shopping experience with 'couch-in-a-box' business.
FOX NEWS OPINION
Former Rep. Jason Chaffetz: President Obama tries to re-write history on Benghazi.
Chris Stirewalt: Why Huey Long was one of America's most colorful populists.
Todd Starnes: Students ordered to spray paint over name of Christ on football field.
HOLLYWOOD SQUARED
'Jeopardy!' host Alex Trebek's beard unleashes hairy debate among viewers.
Carrie Underwood set to receive star on Hollywood Walk of Fame.
Sylvester Stallone says new 'Rambo' movie production is 'starting soon.'
DID YOU HEAR ABOUT THIS?
Hybrid python threat has spread beyond Florida Everglades, DNA study shows.
Scientists find three bizarre new sea creatures in pitch-black part of Pacific Ocean.
Pluto should be a planet again, researchers argue.
STAY TUNED
FOX Nation is coming! - Sign up now and find out about its exciting launch!
On Facebook:
Check out 'FOX News Update,' our new Facebook-exclusive news program!
On FOX News:
FOX & Friends, 6 a.m. ET: A look back at the 9/11 terror attacks with: Rudy Giuliani, Bernard Kerik and more. Dr. James Mitchell reflects on what he learned from interrogating the mastermind behind 9/11.
Stay with FOX News for full coverage of ceremonies marking 17 years since the 9/11 attacks.
The Daily Briefing with Dana Perino, 2 p.m. ET: Special guest: Bob Woodward.
On FOX Business:
Mornings with Maria, 6 a.m. ET: Special guests include: Former New York City Mayor Rudy Giuliani; former New Jersey Gov. Thomas Kean, former 9/11 Commission chairman; Major League BaseBall Hall of Famer George Brett; Denny Strigl, former Verizon Wireless CEO.
Varney & Co., 9 a.m. ET: Jason Robins, DraftKings CEO; Alberto Gonzales, former U.SA. attorney general; Kris Paronto, former CIA private security contractor during the 2012 Benghazi attack.
Cavuto: Coast to Coast, Noon ET: Greg Ip, Wall Street Journal economics commentator; former Rep. Lee Hamilton, vice chairman of the 9/11 Commission.
Countdown to the Closing Bell, 3 p.m. ET: Bob Hormats, Kissinger Associates vice chairman; Howard Lutnick, Cantor Fitzgerald CEO and chairman.
On FOX News Radio:
The FOX News Rundown podcast: Tuesday marks 17 years since 9/11, a day when the nation remembers all the victims who died during the terror attacks. One of those victims was Mark Bingham, one of the brave passengers who stormed the cockpit on United Flight 93 and fought with the hijackers, preventing them from targeting Washington D.C. Bingham's mother, Alice Hoagland, joins the podcast pay tribute to her son. Ari Fleischer, former White House press secretary to President George W. Bush, shares his memories of 9/11. Plus, commentary by FDNY Lieutenant Tim Sullivan.
Want the FOX News Rundown sent straight to your mobile device? Subscribe through Apple Podcasts, Google Play, and Stitcher.
The Brian Kilmeade Show, 9 a.m. ET: Looking back on 9/11, Bob Woodward's new book and the Obama-Trump war of words will be the main topics of discussion. Special guests include: Former congressman Allen West; Ken Starr on his new memoir; Stephen Hadley; Ari Fleischer; Tom Fitton on the latest in the Mueller investigation; Sean Parnell on his new book, "Man of War: An Eric Steele Novel."
The Tom Shillue Show, 3 p.m. ET: FOX News Digital politics editor Chris Stirewalt joins Tom Shillue to discuss his new book, "Every Man a King: A Short, Colorful History of American Populists."
Benson & Harf, 6 p.m. ET: Don't miss Marie Harf's live interview with former Secretary of State John Kerry in special show dedicated to 9/11. Other guests include: CJ Chivers, senior writer at the New York Times and author of "The Fighters: Americans in Combat in Afghanistan and Iraq"; Clifford Chanin, executive vice president and deputy director for Museum Programs at the 9/11 Memorial Museum.
#OnThisDay
2001: On America's single-worst day of terrorism, nearly 3,000 people are killed as 19 al-Qaeda members hijacked four passenger jetliners, sending two of the planes smashing into New York's World Trade Center, one into the Pentagon and the fourth into a field in western Pennsylvania.
2012: A mob armed with guns and grenades launch a fiery nightlong attack on a U.S. diplomatic outpost and a CIA annex in Benghazi, Libya, killing U.S. Ambassador Chris Stevens, U.S. Foreign Service Information Management Officer Sean Smith, and CIA contractors Tyrone S. Woods and Glen Doherty.
FOX News First is compiled by FOX News' Bryan Robinson. Thank you for joining us! Enjoy your day! We'll see you in your inbox first thing Wednesday morning.