Fourth US soldier killed in Niger ambush identified
The Pentagon on Saturday identified a fourth U.S. soldier killed earlier this week in the West African country of Niger.
Sgt. La David T. Johnson, 25, of Miami Gardens, Fla., died in the Oct. 4 ambush, but his body was not recovered until Oct. 6.
The Military Times reported that Johnson enlisted in the Army in January 2014 as a Wheeled Vehicle Mechanic. He was decorated with the Army Achievement Medal, the Army Good Conduct Medal, the Global War on Terrorism Medal, the Army Service Ribbon, the Army Parachutist Badge, the Army Air Assault Badge, the Driver and Mechanic Badge, and the Marksmanship Qualification Badge - Sharpshooter with Rifle.
The other U.S. forces killed in the attack were identified Friday as Staff Sgt. Bryan C. Black, 35, of Puyallup, Wash.; Staff Sgt. Jeremiah W. Johnson, 39, of Springboro, Ohio; and Staff Sgt. Dustin M. Wright, 29, of Lyons, Ga.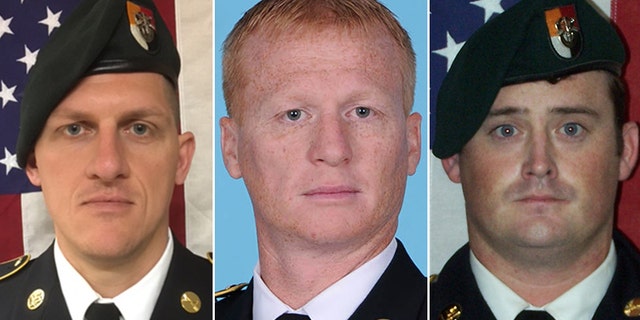 All four soldiers were assigned to the 3rd Special Forces Group, based at Fort Bragg, N.C. They were part of a joint U.S.-Nigerien patrol that was ambushed by Islamic militants near the border with Mali.
Two U.S. soldiers were wounded in the attack. Niger's army said four of its soldiers were killed and eight others were wounded.
U.S. officials told the Associated Press that the soldiers were leaving a meeting with tribal leaders when they were ambushed by between 40 and 50 extremists on in vehicles and on motorcycles. The attackers fired rocket-propelled grenades and heavy machine guns at the patrol, setting off explosions and shattering windows.
The Associated Press contributed to this report.