Four arrested during third night of protests in Pittsburgh over police shooting of unarmed teen
Four people were arrested and a Mercedes drove through a crowd of demonstrators as protests continued in Pittsburgh for the third straight night over the police shooting of an unarmed teenager.
Hundreds took part in two protests across the city, including outside PNC Park, where the Pittsburgh Pirates were playing the Arizona Diamondbacks.
As the game went into extra innings, fans trying to leave from the home plate gate found it was locked, according to the Pittsburgh Post-Gazette.
One man, who identified himself as J. Cannam, 32, clashed with protesters outside the stadium and shouted "blue lives matter" before being ushered away by police.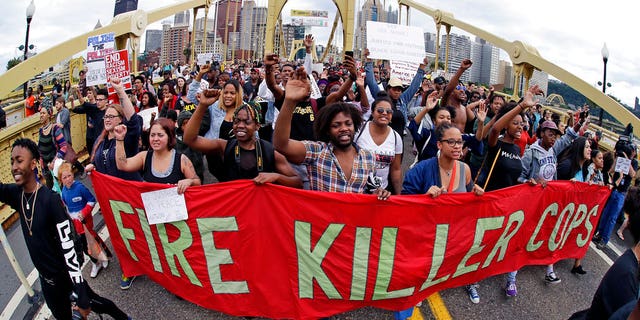 "I'm a big supporter of our military and police, and [the protesters] have no right to be obstructing people like they are," he told the newspaper.
Nearby, a car identified as a Mercedes-Benz drove through a crowd, who pounded the vehicle with their fists, before speeding off. Police said there were no injuries during the incident.
The protests have erupted after 17-year-old Antwon Rose was shot dead by East Pittsburgh Police Officer Michael Rosfeld, 30.
Rose, who was unarmed, was shot from behind three times as he ran away from a traffic stop after the vehicle he was riding in had been linked to an earlier non-fatal drive-by shooting 13 minutes earlier in nearby North Braddock. The vehicle had bullet damage to the back window.
His death, which was captured on video by an eyewitness and posted online, has been listed as homicide by the Allegheny County Medical Examiner's Office.
Rosfeld has been placed on paid leave while an investigation takes place.
Protesters on Friday night carried signs in front of police in riot gear that read "Fire killer cops" and chanted slogans including: "No justice, no peace", "Hands up, don't shoot" and "Three shots to the back, how do you justify that?"
TEEN, 17, SHOT DEAD BY COP WHILE FLEEING TRAFFIC STOP HAD EMPTY HANDGUN MAGAZINE IN HIS POCKET
Meanwhile the Allegheny County District Attorney has confirmed the existence of a pair of surveillance videos that show the earlier incident in North Braddock.
Stephen A. Zappala, Jr., the district attorney, told the Post-Gazette: "There is very good evidence from North Braddock. Whatever transpired in North Braddock, I'm not going to get into that right now, but there were things that happened in North Braddock.
"There is video, in fact there's video from a bus and video from a stationary camera. It's good evidence and it explains exactly what happened in North Braddock."
Earlier this week the DA's office confirmed that Rose was not armed at the time he was shot but he was carrying an empty gun magazine.
Attorney Fred Rabner, who is representing Rose's family, has dismissed the relevance of the empty magazine or the fact there were two guns found inside the car.
COP WHO FATAL SHOT UNARMED 17-YEAR-OLD BOY WAS SWORN IN JUST 90 MINUTES BEFORE, POLICE SOURCES SAY
"None of [that] would play into the evaluation as to whether this was a reasonable action by the police officer, or a good shoot," he said. "[Rose] is running away, empty-handed, and he is shot in the back. Period."
Rosfeld, a Penn State University graduate, was hired by East Pittsburgh police in May and had been patrolling the borough since then, but was only formally sworn in at a council meeting on Tuesday, just hours before he shot Rose.
Previously he worked for the University of Pittsburgh's police department for six years as well as the boroughs of Oakmont and Harmar Township.