Fort Worth officer fighting for his life after trying to stop crew suspected of more than a dozen robberies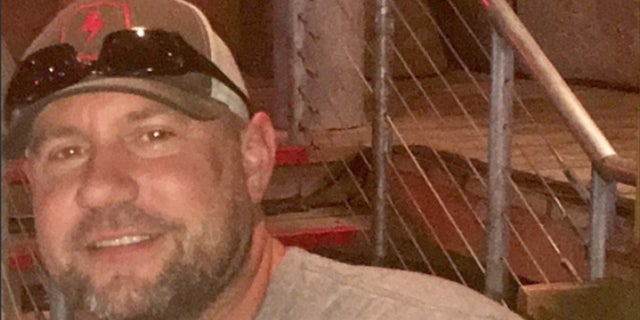 A veteran Texas police officer trying to stop a robbery crew suspected of carrying out more than a dozen heists in the Fort Worth area is "courageously fighting" for his life Friday after he was shot in the head.
Fort Worth Police Chief Joel Fitzgerald said Officer Garrett Hull, a 17-year veteran of the department, was struck Thursday night near the Los Vaqueros sports bar. He said undercover units had "set up" one of the three suspects and interrupted a robbery that the crew was in the process of committing.
"Family members are with him now and at his side. His friends and fellow officers here -- his other family -- are there to support him 110 percent," Fitzgerald told reporters Friday at a hospital where Hull is listed as being in critical condition with, according to the chief, "serious medical issues."
Police said as the suspects were trying to flee the scene, one of them opened fire and hit Hull. Other officers, in response, fired back and killed a member of the crew.
Fort Worth police arrested a female suspect at the scene and tracked down a male suspect later during a search of the neighborhood. The two men were identified as Dacion Steptoe and Samuel Mayfield, and Fitzgerald said both were well known to authorities. The identity of the woman has not yet been released.
The owner of the bar, Victor Zepeda, told CBS DFW that the two male suspects were wearing masks and burst through the building's front door, demanding wallets and cell phones from the customers inside.
"We were here and they just bum-rushed the bar, told us to hit the floor and had the guns out," he said.
The trio is believed to be behind at least 15 other robberies in the Fort Worth area and across northern Texas, during which they have shot three people, Fox 4 News reported.
Fitzgerald said Friday the number of robberies the crew has been connected to could rise. He has also hailed the response of officers at the scene Thursday.
"We had some phenomenal acts of courage while the scene was still active, and by active I mean they were still looking for offenders out in that area," Fitzgerald said. "And they picked up our officer, as I call it load-and-go. Didn't wait for an ambulance to get there. They put him in the police car and worked on him, you know, in the car."
Fitzgerald described Hull as the "rock" of the criminal intel unit, where he works and that he has a wife and two children.
No bystanders were reported to have been injured during the incident and more than 100 officers have stopped into John Peter Smith Hospital to pray for Hull and his family, Fox 4 News reports.