Fort Campbell soldier hailed as hero after saving autistic teenager from drowning
A soldier at Fort Campbell was hailed as a hero Sunday after he dove into a river to save an autistic teen from drowning when the teenager became separated from his family during a tubing trip.
Martie Weeks told FOX17 News she was floating down the Red River in Clarksville, Tenn. with her three sons and some friends when the group came across a fallen tree that created a strong current, knocking her 17-year-old autistic son, Ronnie Harris, over.
"The current picked up, and the tree, along with the rocks at the bottom of the river, create a kind of rip tide," Weeks said.
Weeks tried to paddle to her son, who was trying to stand but kept being knocked over in the current, struggling to keep his head above the water.
"I was thinking I don't want to drown right here. I don't want to drown today," Harris said. "I don't want to die today."
The mother said she watched as her son slowly stopped struggling, and ended up face down in the river.
"I just kept praying, 'God please don't take this child from me, please, somebody hear me,'" she told FOX17. "I just kept praying."
Her prayers were answered when a good Samaritan, U.S. Army staff sergeant Timothy Hansen, dove into the river and rushed to her son's aid, picking him up and doing chest compressions until he was able to spit out the river water and breathe again.
"I turn around and I see somebody go under a tree, and I dropped my phone and everything I had in my hands and I took off running to go help and assist," Hansen said.
After rescuing the 17 year old, Hansen was able to reunite the family, pulling the mother and son down the river by a rope to a spot where they could get on land.
"It was just get him out of the situation so we can get him to make sure he's still breathing," Hansen told FOX17. "At that point I started moving back toward the shore and that's when I saw his face, and he was spitting up a lot of water and I was like, 'at least he's breathing, that's good.'"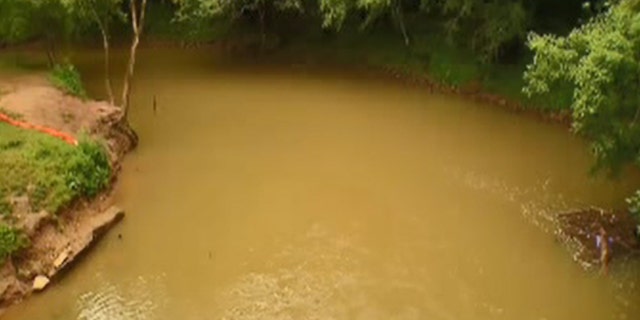 Weeks said she wanted to share the news of Hansen's heroic actions, which gave her a "renewed sense of humanity."
"There were other people in the water in kayaks who just watched, taking out their phones and recording it all," she said. "They didn't help, but he did."
Weeks added that Hansen is "definitely our hero."
"That's not an easy title to earn," said Hansen, who has been in the Army for 10 years and served in Iraq and Afghanistan. "I'm just glad I could help."