Former NFL safety Darren Sharper surrenders to police in Los Angeles rape case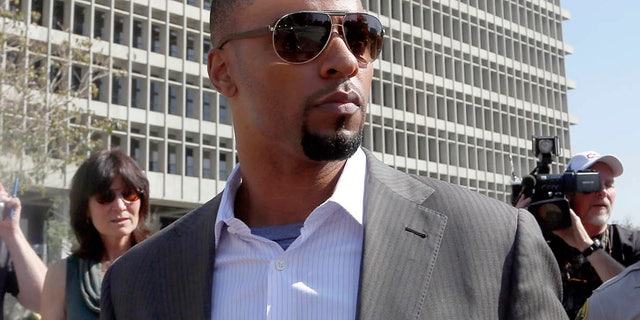 Former NFL safety Darren Sharper turned himself into Los Angeles police late Thursday, after being charged in an arrest warrant in New Orleans alleging he and another man raped two women in the Louisiana city last year.
Sharper, 38, had already been charged with raping and drugging two women in Los Angeles and was freed on bail, the Los Angeles Times reports. He is now accused of raping nine women and drugging 11 in five states, including Florida, Nevada and Arizona. In nearly every incident, authorities claim Sharper plied victim with drinks causing them to black out.
Police say Erik Nunez, 26, was booked early Friday on two counts of aggravated rape, stemming from alleged assaults last September in New Orleans. Nunez was earlier described by authorities as an acquaintance of the six-time All-Pro safety originally from Richmond, Va. Each faces two counts of aggravated rape, Remi Braden, a police department spokeswoman, said in a news release.
The two women were allegedly raped at the same location on Sept. 23, Braden said.
"New information uncovered also indicates that Nunez also allegedly raped both women that night at the same location," she said.
Sharper's New Orleans-based attorney, Nandi Campbell, and attorney Leonard Levine, who represents Sharper in the California case, did not immediately return telephone calls seeking comment. Braden said she did not know whether Nunez had an attorney.
The assault investigation in New Orleans is ongoing and additional arrests are possible, Braden said.
If convicted in the California case, Sharper could face more than 30 years in state prison. If convicted of aggravated rape in Louisiana, both Sharper and Nunez would face life imprisonment.
Sharper was selected All-Pro six times and chosen for the Pro Bowl five times. He played in two Super Bowls, one with the Green Bay Packers as a rookie and a second with the New Orleans Saints. He retired after the 2010 season following 14 years in the NFL. He previously worked as an analyst for the NFL Network, which has suspended him indefinitely and without pay.
Sharper, who must remain in Los Angeles County as a condition of his release on a $1 million bond, now awaits an April 15 hearing on charges related to the two rape cases there. He has pleaded not guilty to those charges.
One of Sharper's alleged victims claims she met him at an event on Sept. 22 before accompanying him to another bar, according to a New Orleans Police Department report. While there, the woman said, Sharper gave her a drink, which she consumed. Her next memory came several hours later, at around 10 a.m. on Sept. 23, when she woke up to Sharper "on top of her sexually assaulting her," the report said.
Nunez, according to his Facebook page, which includes a photo of Sharper, is an NFL event coordinator.
Darren DeWalt, an organizer of cancer charity events involving NFL players, said Nunez was never a paid employee of his non-profit foundation Get Checked or Check Out!
"He volunteered for some of our events, and that's all," DeWalt told NOLA.com. "I don't have any recollection of him."
The Associated Press contributed to this report.