Former beauty queen Alicia Machado bares all for PETA's campaign against fur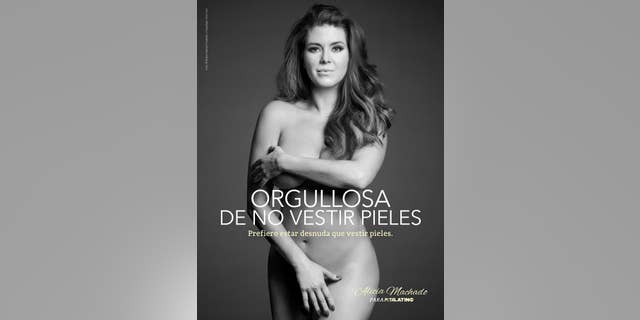 NEWYou can now listen to Fox News articles!
Former Miss Universe Alicia Machado is baring it all for PETA Latino's anti-fur campaign, vowing that she would "rather go naked than wear fur" in a new ad.
The 40-year-old Venezuelan-born beauty made headlines again last year during the presidential campaign, when she called then candidate Donald Trump "misogynist."
FORMER MISS UNIVERSE SPEAKS OUT ABOUT TRUMP'S 'ABUSE'
She said Trump, her one-time beauty pageant boss, allegedly scolded her for having gained "a massive amount of weight." Machado said he labeled her with a sexist nickname — "Miss Piggy" — that caused her shame and humiliation.
Now Machado is showing off her curves to urge the public to stop buying garments made with furs.
IN VENEZUELA, ALICIA MACHADO IS CONSIDERED COUNTRY'S MOST 'SCANDALOUS' BEAUTY QUEEN
"When an animal is bred to be killed, to make clothing, it is monstrous," Machado said.
She described fur as "terribly cruel."
"I think it is the biggest example of the frivolity and superficiality that human beings are capable of," the former beauty queen said.
EFE contributed to this report.