Former aide: Schwarzenegger portrait originally featured Shriver's image, now a blue splotch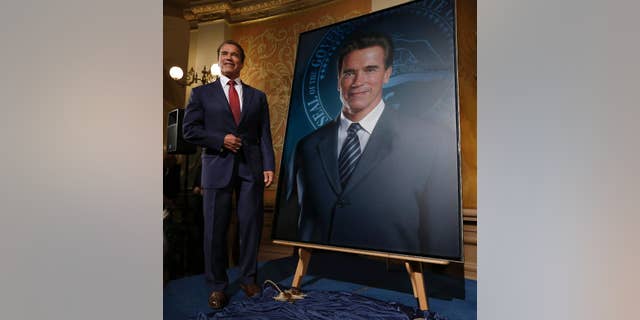 SACRAMENTO, Calif. – An endearing gesture by former Gov. Arnold Schwarzenegger to include an image of his wife Maria Shriver in his official portrait has been erased with a splotch of blue paint.
Former Schwarzenegger aide Clay Russell confirmed Friday that the portrait of the former governor once featured a lapel button showing the face of his estranged wife.
The realist-style painting by Austrian Gottfried Helnwein was finished during Schwarzenegger's first term then sat on an easel in Schwarzenegger's Oak Productions office in Santa Monica.
After Schwarzenegger left office, embarrassing revelations emerged about an affair he had with his maid that produced a son. Schwarzenegger and Shriver are now separated.
It was not clear when the button was painted over or who did it.
Schwarzenegger spokesman Adam Mendelsohn did not immediately respond to a telephone message left Friday.
The painting was unveiled on Monday.