Forest fires spread by drought strike southern Appalachians
A prolonged drought in the southeast U.S. is sparking dozens of wildfires in the forests of the southern Appalachian Mountains, threatening homes and taxing state and federal firefighters as they evacuate people from the area.
Thirty-seven fires comprising 100 acres or more each burned in Georgia, Tennessee, North Carolina, Kentucky, Virginia and Alabama as of Tuesday, according to the U.S. Forest Service.
In all, 107,599 total acres—an area more than seven times the size of Manhattan—have burned, including at least 28,000 acres in a single Fannin County, Ga., fire. Officials suspect arson in some of the blazes.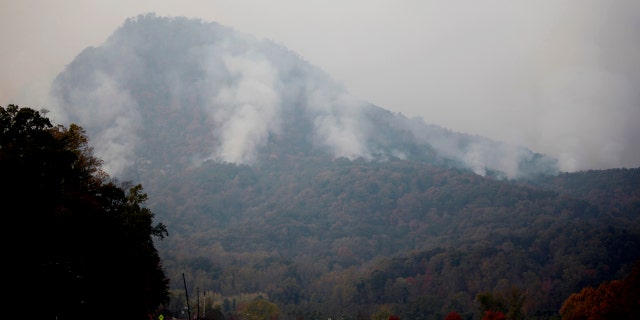 For days, a hazy pall has spread across much of northern Georgia, including metro Atlanta, home to 5.7 million people. State officials warned that the air is unhealthy, and cautioned people with breathing problems to stay indoors as much as possible.
With state firefighters scrambling to quench the blazes currently active, officials told people to avoid starting new fires that could quickly spread.
"We're a cigar butt away from a disaster," said John Williams, adventure guide at Amicalola Falls, a state park near the southern terminus of the Appalachian Trail in Georgia.
Workers at the 829-acre park have positioned hoses around the area and put firefighting equipment in their trucks, he said. The park's falls, its main attraction, are normally gushing with water, but "now it's a trickle," he said.