Ford Will Offer Hybrid At Same Price As Gas Model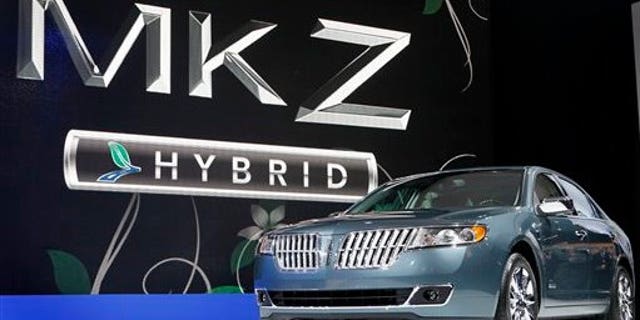 DEARBORN, Mich. -- For the first time, an American auto maker plans to sell a hybrid car for the same, lower price as its gas-powered counterpart, removing at least one obstacle for drivers who want a greener ride.
At a little more than $35,000, the 2011 Lincoln MKZ sedan won't be cheap, but the decision by Ford to match the prices of the two styles could lead competitors to follow suit with future models.
The hybrid MKZ, debuting this fall and running on both gas and electric power, will be a bargain after factoring in savings at the pump. It gets more than double the mileage of the traditional version in city driving.
While automakers won't reveal what they spend to install a hybrid system in a car, the final product usually costs several thousand dollars more than a gas-powered version of the same car.
The Lexus HS 250h, the MKZ's closest competitor, costs about $2,500 more than the Lexus IS, a similar, small, gas-powered sedan. Ford charges $8,840 more for the hybrid version of its Ford Escape SUV.
The MKZ can still make money even if Lincoln doesn't charge more for the hybrid, said Erich Merkle, president of the consulting company Autoconomy.com. Luxury cars are sold at a significant premium, he said, ensuring a profit for Ford.
Lincoln can also borrow the h The new hybrid system isn't the Lincoln MKZ's only nod to the environment. Its wood trim comes from well-managed forests, while the leather seats use a chromium-free tanning process that makes them easier to recycle, Ford said.
Lincoln MKZ buyers are not eligible for federal tax credits for alternative-fuel vehicles. Federal law limits the credits to the first 60,000 buyers of a company's hybrids, and Ford hit that number on March 31.
Ford is the first U.S. automaker to offer a hybrid and conventional version of a car at the same price. Industry analysts say they are unaware of a foreign automaker doing it, either.
Even if Ford were to lose money on the MKZ hybrid, it would probably be willing to make the trade in exchange for marketing value for the Lincoln brand, said Bruze Belzowski, assistant research scientist at the University of Michigan Transportation Research Institute.
"Lincoln might say, 'We're going to take a hit on this,"' Belzowski said. "They may say something like 'We're willing to take a hit on this because the marketing value is going to outweigh the cost."'