Following release of House memo, FBI director says 'talk is cheap' in letter to bureau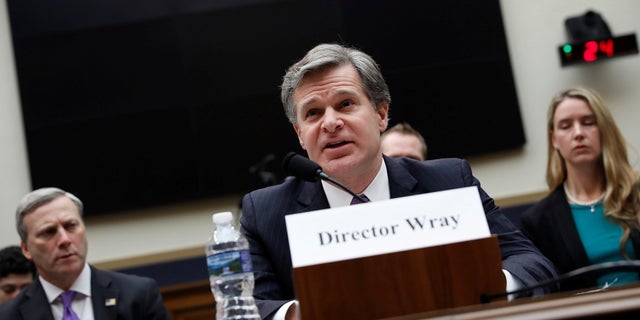 FBI Director Christopher Wray reportedly sent a letter of support to his employees at the bureau on Friday following the release of the much-hyped FISA memo, Business Insider reported.
In the letter, released Friday evening by a BBC reporter, Wray attempted to rally his team by reminding its members that the work they do is important and "will always matter more" than what goes on in the press.
"The American people read the papers, and they hear lots of talk on cable TV and social media," Wray wrote. "But they see and experience the actual work you do -- keeping communities safe and our nation secure, often dealing with sensitive matters and making decisions under difficult circumstances. And that work will always matter more."
"Talk is cheap," Wray wrote. "The work you do is what will endure."
HOUSE MEMO STATES DISPUTED DOSSIER WAS KEY TO FBI'S FISA WARRANT TO SURVEIL MEMBERS OF TEAM TRUMP
Wray's words followed the public release of a four-page memo compiled by the staff of the House Intelligence Committee chairman, Rep. Devin Nunes, R-Calif., which details claims that the Department of Justice and the FBI allegedly abused federal surveillance practices during the 2016 presidential campaign. The memo was declassified by President Trump on Friday, despite House Democrats' warnings and cautions against doing so.
In the FBI director's letter, Wray said the bureau does difficult work "even when it's not easy." But agents do it because they "believe in what it stands for and in what this institution means to people."
"We're going to keep doing that work, because we know who and what we are, and because we know that our mission comes first," Wray said. "The American people come first."
HOUSE INTEL VOTES TO RELEASE CONTROVERSIAL SURVEILLANCE MEMO TO THE PUBLIC
He asked his employees to continue working hard and promised to "defend your integrity and professionalism every day."
"Thank you for standing strong together, and for keeping your faith in this institution that means so much to all of us," Wray said.
The letter came after members of the FBI Agents Association issued their own statement on Thursday, saying they appreciated Wray's continued support and would continue to work to protect Americans.