Florida woman's message of love, compassion helps stop man from jumping off bridge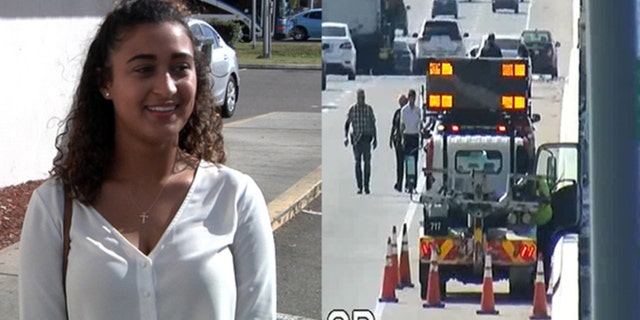 A Florida woman says she helped prevent a stranger from jumping off a bridge by offering a hug and telling him "everything is going to be okay."
Nicole Oyola, a 23-year-old from Clearwater, told Fox 13 that she suddenly pulled to the side of the Howard-Franklin Bridge outside of Tampa on Thursday when she spotted a man on its edge.
"I started talking to him. I told him, 'You're worth it. You're enough,'" Oyola said. "'I don't know what you're going through, but I love you and God loves you and everything is going to be okay.'"
Oyola added that the man appeared to be in his early 20s and that she initially thought he had stopped on the bridge because he was having car trouble.
The station reported that the man is now receiving counseling. Oyola said she called the police and an officer who arrived prayed with the man before taking him off the bridge.
Oyola said while speaking to the man, he became overwhelmed with emotion.
"He looked at me, and after he looked at me he started crying and I said, 'I just want to give you a hug.' So he came to the other side and I gave him a hug,'" she told Fox 13.
"God has a purpose for everyone," she added. "I believe in that, so I stopped. I just wanted to help him feel better. If I was going through that, I would want someone to stop for me too."