Florida woman smiles in mugshot after DUI crash that killed mother, officials say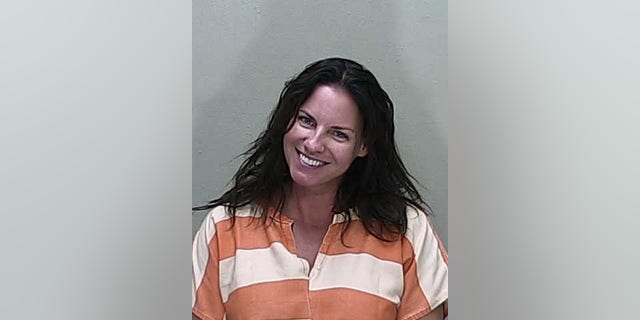 A Florida woman sparked a fury after she was photographed smiling ear-to-ear in her mugshot following a drunk driving crash that killed a 60-year-old mother, Florida Highway Patrol said.
Angenette Welk, 44, of Ocala, was arrested last Thursday and faces several charges, including driving while under the influence following a crash just after 12 p.m., WKMG reported. Welk was driving down U.S. Highway 27 in Marion County when cops say she failed to brake in time, rear-ending a Hyundai Elantra that then slammed into a tractor-trailer stopped in front of it.
Shiyanne Kroll, 18, the driver of the Hyundai Elantra, suffered minor injuries. Her mother, 60-year-old Sandra Clarkston, died days after the crash, the report stated.
Welk reportedly told troopers at the scene that she crashed into the vehicle because she dropped her phone. However, the 44-year-old had trouble completing a field sobriety test, WKMG reported. Police smelled alcohol on her breath and cops said Welk's blood alcohol level was .172 — more than twice the legal limit.
"It's definitely wrecked our family forever, not just temporarily, this was a permanent thing that [Welk] did. [I'm] trying to cope with the fact I won't see her walk again, she won't be home when I get home from work or in the mornings when I get home from work," Clarkston's daughter, Keonna Sciacca, told WKMG.
Sciacca said her mother was paralyzed and brain dead after the crash, though doctors performed multiple operations to try to save her.
Kroll said it was "disgusting" seeing Welk smile in her mugshot.
"That disgusts me and that means she has no remorse for what she did at all and I hope that judge sees that picture and says the same thing," Kroll said.
Sciacca added: "If you are out drinking, there is no reason not to put your keys down and Uber, Lyft. Thats all it takes to destroy a family, is one bad decision."
Florida Highway Patrol told the news station they are working to upgrade charges against Welk. She posted bond and was released on Friday.