Florida woman paddleboards from Cuba to Key West
A Florida paddleboarder reportedly arrived in south Florida on Wednesday after making the difficult journey from Cuba in pursuit of a new world record.
Victoria Burgess paddled away from Havana on Tuesday and was beaming as she arrived on the shores of Key West, more than 20 hours later, WSVN reported.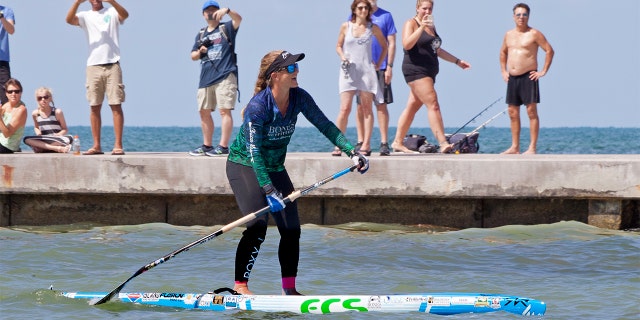 PARK SYSTEM CELEBRATES 150 YEARS WITH PINK FLAMINGO RECORD
When asked about the roughly 100-mile excursion, she told the outlet "it was long." Burgess said she "paddled on my left side probably for about 80 percent of the time."
After coming ashore, Burgess was captured in photos sporting a pink lei and celebrating with onlookers.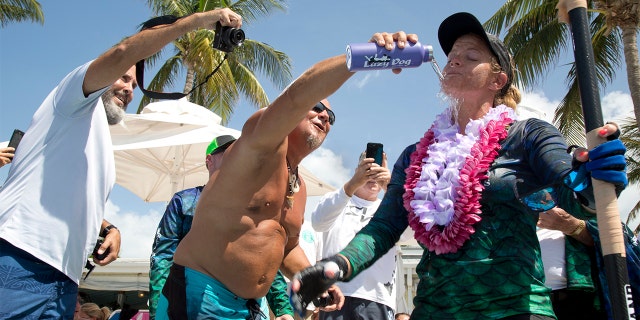 She set off on the trip in an attempt to break the Guinness World Record for the longest journey by stand-up paddleboard, The Associated Press reported. According to WSVN, she is awaiting official word from the organization's judges.
JAGUAR VECTOR RACING SETS RECORD FOR WORLD'S FASTEST ELECTRIC SPEEDBOAT
Her goal was also to empower women and to help improve relations between the U.S. and Cuba, she told the outlet.
"I hope to help the U.S.-Cuba friendship. That's what I'm here for, is friendship and love and to bring hope to everybody between the U.S. and Cuba," she said. "And to show hope to women all around the world that anything can be done."
The Associated Press contributed to this report.