Florida woman charged with DUI while riding horse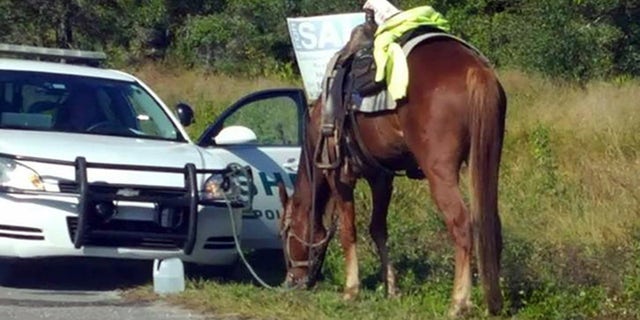 Riding a horse while drunk is a big no-no and you will get a DUI if you try it.
That's what a 53-year-old woman learned Thursday afternoon when she was stopped by Polk County sheriff deputies while riding down a busy highway in Florida.
Officials said a passerby noticed a woman who appeared confused and possibly in danger along Combee Road near North Crystal Lake Road in Lakeland.
When deputies arrived they found Donna Byrne riding her horse on the road and had an odor of alcohol, red watery eyes and was staggering, Fox 13 Tampa reported.
Officers did a sobriety test and said she gave breath samples that registered blood-alcohol level of .161 — twice Florida's legal limit of .08.
Byrne is charged with DUI and animal neglect for endangering and failing to provide proper protection for the horse.
"Ms. Byrne was obviously not in any condition to be on the road," said Polk County Sheriff Grady Judd. "She not only put herself and the horse in danger but also anyone who was driving on the road, which is typically very busy."
Deputies took the horse to the Polk County Sheriff's Animal Control livestock facility. She was booked into the Polk County Jail. Jail records did not list an attorney for her.
The Associated Press contributed to this report.