Florida teacher tells fourth-graders to give up constitutional rights, report says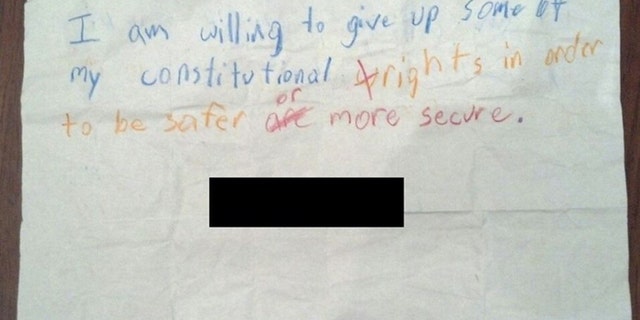 A Florida father says he was shocked to find a note in his fourth-grade son's backpack suggesting that his teacher instructed students to write letters on their willingness to give up their constitutional rights.
Aaron Harvey told WOKV.com that his 10-year-old son was told to write a note reading, "I am willing to give up some of my constitutional rights in order to be safer or more secure," after a civics lesson at the end of last year.
Harvey said he found the note earlier this month and obtained the curriculum guide for the lesson, which he said was geared toward helping students "determine their opinions on which rights they value most and least," the report states.
He told the station that his son's teacher instructed several students in the class to write the statement and sign it. He said the story was corroborated by other parents with children in the class.
Harvey, a military veteran, told FirstCoastNews.com he thinks the statement reflects the teacher's personal opinion.
"I don't believe that any American or American child should be asked to write this," he said.
Duval County Public Schools issued a statement Friday to FirstCoastNews.com in which they said the lesson was consistent with the district's "efforts to broaden civics-based education and develop critical thinking skills among our students."
"The lesson builds awareness of First Amendment rights through a partnership with an association of local attorneys. Our possible concern rests with a follow-up activity that may have been conducted after the lesson," the statement read.
Click here for more from WOKV.com.
Click for more from FirstCoastNews.com.