Florida school shooting survivors featured on Time magazine cover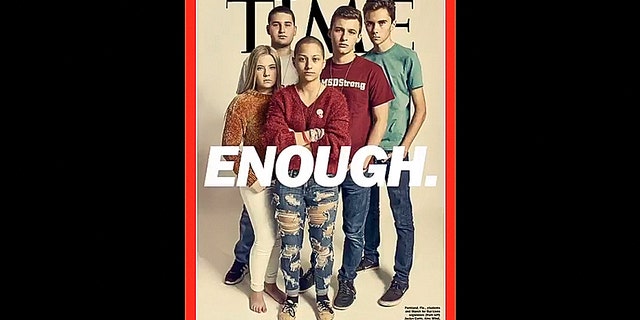 Five teenagers who survived the deadly school shooting in Parkland, Florida are being featured on Time magazine's latest cover, the publication revealed in a Thursday tweet.
Marjory Stoneman Douglas High School students Jaclyn Corin, Emma Gonzalez, David Hogg, Cameron Kasky and Alex Wind are standing together in the image.
A simple message was stretched across the page in big, bold letters: "ENOUGH."
Time linked to an article about the Parkland teens, who are spearheading Saturday's March For Our Lives rally in Washington, in the tweet.
'MARCH FOR OUR LIVES' GUN CONTROL RALLY TO DRAW THOUSANDS ACROSS US
The students are also holding a gun-reform rally Thursday at a charter school in Washington where two students were killed by gunfire earlier this year.
Wind retweeted Time on Thursday, thanking the publication "for this incredible opportunity."
Gonzalez also took to Twitter, sharing the cover image.
"Just a quick plug to remind everyone that the March is in 2 DAYS !!! we are all gonna make history together :'-)," she wrote.
Nikolas Cruz, 19, is accused of carrying out the Feb. 14 massacre at Marjory Stoneman Douglas, killing 17 people. He has since been indicted on multiple charges.
The Associated Press contributed to this report.