Florida school district condemns student's racist 'promposal'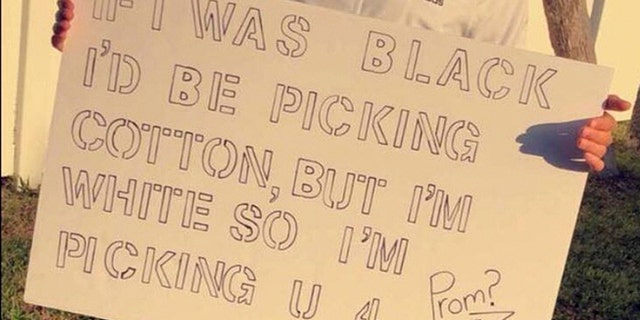 A Florida school district on Monday condemned a white student's 'promposal' sign after critics charged the language used was racist.
A senior at Riverview High School in Sarasota posted to social media a photo of himself holding the homemade sign that read: "If I was black, I'd be picking cotton, but I'm white, so I'm picking u 4 prom," FOX13 Tampa reported Monday.
The Sarasota County School district posted a statement on its website calling the "promposal" racial in nature.
"Neither the school district nor Riverview High School condones or supports the message conveyed in the post," the statement said, adding the student may face disciplinary action.
Riverview acting principal Kathy Wilks sent a message to students and parents on Monday, saying many who saw the post were understandably upset with its contents, WFLA-TV reported.
The promposal ignited online outrage, FOX13 Tampa reported. Some commenters said the student shouldn't be allowed to go to the dance, with others calling the post shameful and unnecessary.
The student, identified as 18-year-old Noah Crowley by the Sarasota Herald-Tribune, purportedly posted an apology on Snapchat in which he said the sign "was a complete joke and it went too far."