Florida Principal Under Fire for Telling Parent to 'Eat Sh-- and Die'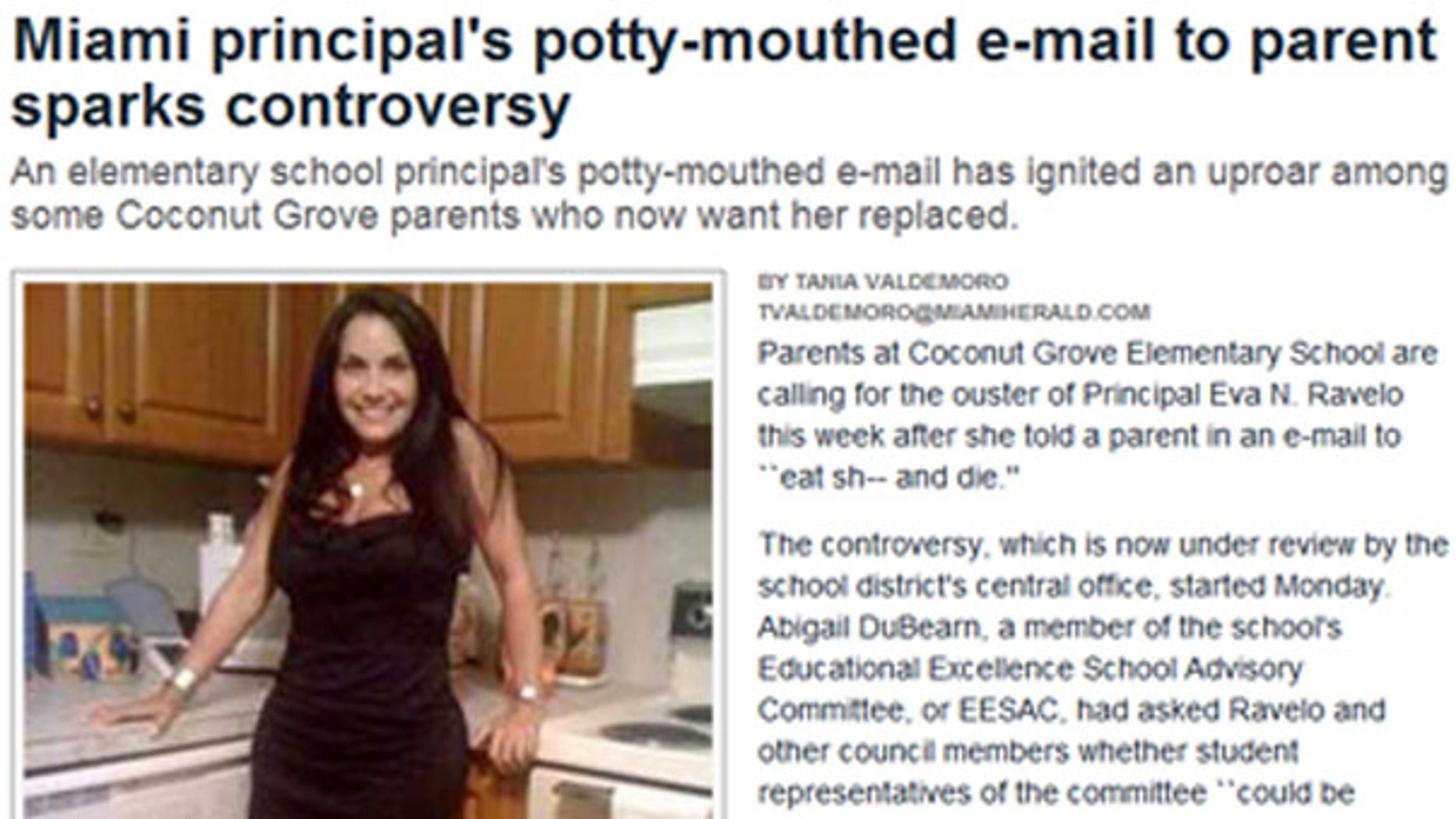 Administrators at a Florida school district are considering how to discipline an elementary school principal who told a parent in an e-mail to "eat sh-- and die."
John Schuster, a spokesman for the Miami-Dade County Public Schools, says the e-mail sent by Coconut Grove Elementary School Principal Eva Ravelo appears to be authentic, and the matter is being reviewed by district officials.
"We're looking into it right now and we're deciding which steps should be taken next," Schuster told FoxNews.com. "It appears to be genuine. It appears that it did take place."
The controversy began Monday when a member of the school's Educational Excellence School Advisory Committee asked Ravelo and other members in an e-mail if student representatives of the committee "could be notified today and be invited to attend and participate" at the meeting.
Ravelo, 45, who has been employed by the district since 1989, including the last two years as Coconut Grove's principal,  replied: "Advise her to eat sh-- and die." She spelled the scatalogical word exactly that way -- without the last two letters.
Schuster declined to speculate how the school district would discipline Ravelo, "although there very likely will be some sort of disciplinary action."
"We want parents to know that we expect all of the school district employees to work with a high degree of professionalism, and that includes all of us," he said. "It's unfortunate this happened because the principal involved has been an excellent administrator. But the behavior as reported is particularly unbecoming for a public employee."
Ravelo did not immediately reply to messages seeking her comment.
Maria Orjeda, Coconut Grove's reading coach who spoke on behalf of Ravelo, told the Miami Herald that the principal intended to send the e-mail to her assistant principal instead of to the parent, Abigail DuBearn.
"Ms. Ravelo takes full responsibility for the mistake," Orjeda told the newspaper. "She apologized to Mrs. DuBearn on Tuesday."
The president of the Coconut Grove Elementary PTA blasted Ravelo's actions.
"No parent should be spoken to this way," Melissa Brown told the Miami Herald. "It's unprofessional behavior. Parents want something to be done or they will take out their children."
Another parent told the newspaper Ravelo's e-mail reflects the "tone of her leadership and the poverty of her intellectual thought" and called for her removal.