Florida police chase leaves 2 in custody; cops seize drugs, loaded gun and 'sweet puppy'
NEWYou can now listen to Fox News articles!
A wild police chase in Florida ended when authorities apprehended two suspects and seized large amounts of drugs, a loaded gun and a "sweet puppy."
The Marion County Sheriff's Office released body-cam and dash-cam footage on Tuesday of an attempt by police to stop a speeding vehicle on Sept. 2.
Police said when the speeding black Mitsubishi failed to stop, officers initiated a pursuit. They followed the vehicle into the parking lot behind Ocala Fire Rescue Station 7 where the passenger, 40-year-old Daniel Jones, threw a large bag out the window.
Once at a stop, the driver, 39-year-old David Lolley, and Jones were instructed to exit the vehicle. Jones can be seen holding a female pit bull puppy as he comes out of the car.
Police said the "sweet puppy" spent time "cuddling with deputies" before being handed over to Marion County Animal Control.
Police searched the car and found "a trafficking amount of methamphetamine along with cocaine, ecstasy, heroin and marijuana. They also located a loaded .32 caliber Kel-Tec firearm under the front passenger seat.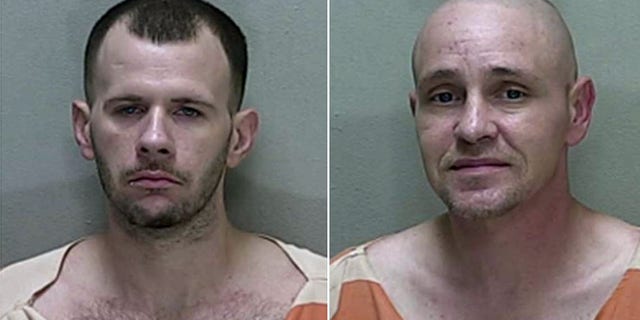 Lolley also was found with several syringes with heroin residue on his person. He claimed to be a diabetic.
According to authorities, Lolley was charged with fleeing to elude, possession of drug paraphernalia and driving with a suspended or revoked driver's license. Jones was charged with trafficking in methamphetamine, possession of cocaine, ecstasy, heroin and marijuana, possession of a firearm by a convicted felon, possession of a firearm during the commission of a felony and possession of a concealed firearm.