Florida nightclub shooter apparently made threats in the past; ex-wife claims he beat her
EDITOR'S NOTE: Orlando's mayor on Monday revised the death toll in the nightclub shooting to 49, from 50. The 50th body was identified as gunman Omar Mateen.
The gunman who killed at least 50 people at an Orlando nightclub early Sunday was a licensed security officer who claimed more than once that he had connections to Islamic terror groups, Fox News has learned, as the killer's ex-wife reportedly said he was unstable and would beat her.
Investigators identified the shooter as 29-year-old Omar Mateen, a Muslim who had a Statewide Firearms License. They said he lived in Port St. Lucie and nearby Fort Pierce. His father, Seddique Mateen, announced he was running for president of Afghanistan sometime around May 2015.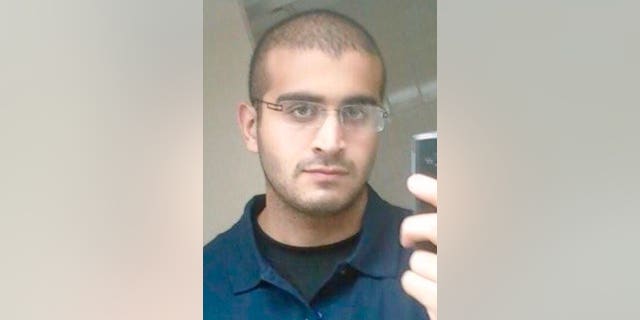 Omar Mateen "was not a stable person," his ex-wife told The Washington Post, which did not name her. "He beat me. He would just come home and start beating me up because the laundry wasn't finished or something like that." She said he worked as a guard at a facility for juvenile delinquents and frequently exercised at a nearby gym in his spare time.
His ex-wife was born in Uzbekistan. They were married in St. Lucie County in 2009 and reportedly divorced in 2011. The shooter remarried at least once after the divorce and had a three-year-old son.
Security firm G4S confirmed he'd been an employee since September 2007. "We are cooperating fully with all law enforcement authorities, including the FBI, as they conduct their investigation," company executives said in a statement.
"The fact that this shooting took place during Ramadan and that ISIS leadership in Raqqa has been urging attacks during this time, that the target was an LGBT night club during Pride, and – if accurate – that according to local law enforcement the shooter declared his allegiance to ISIS, indicates an ISIS-inspired act of terrorism," House Intelligence Committee Ranking Member Adam Schiff, D-Calif., announced. The gunman had Facebook and Myspace accounts, a counterterrorism source told Fox News.
Federal investigators were scouring Omar Mateen's social media profile and looking into his father's background, as well as possible connections to an outside group.
Seddique Mateen told NBC News his son got angry after seeing two men kissing in Miami a couple of months ago, suggesting that may have helped trigger the attack at the gay nightclub. "We were in Downtown Miami, Bayside, people were playing music. And he saw two men kissing each other in front of his wife and kid and he got very angry... They were kissing each other and touching each other and he said, 'Look at that. In front of my son they are doing that.' And then we were in the men's bathroom and men were kissing each other."
The gunman's father claimed the massacre "had nothing to do with religion."
The elder Mateen once voiced support for the Taliban and denounced Pakistan while hosting a television show on a California-based channel called Payam-e-Afghan, the Washington Post reported.
"Our brothers in Waziristan, our warrior brothers in Taliban movement, and national Afghan Taliban are rising up," he says in one of dozens of videos posted on YouTube under his name. "Inshallah the Durand line issue will be solved soon."
The "Durand line issue" refers to the border between Afghanistan and Pakistan and is a sensitive subject especially for members of the Pashtun ethnic group, according to the Post.
Omar Mateen was trained in firearms. Police said he killed each of his victims with an AR-15-type assault rifle but also carried a handgun. He had no apparent criminal history, sources told CBS News.
The shooter also worked in security at Indian River State College where he received an associate's degree in criminal justice, according to his father.
The ex-wife told the Post she met Omar Mateen online about eight years ago and moved to Florida to marry him. She claimed he wasn't very religious and showed no indications he'd been influenced by radical Islam. "He seemed like a normal human being," she said, adding, "He was a very private person."
The marriage lasted just a few months before her parents learned about the apparent beatings and pulled her out of the house, the Post reported. The ex-wife said she cut off all contact with Omar Mateen at that point.
The shooter was born in New York to Afghan parents. Both he and his father were registered Democrats.
Police worked to secure the van they said the shooter drove to the nightclub. Sheriff's investigators also evacuated an apartment building in Fort Pierce where they said he lived. Fort Pierce is roughly 25 minutes north of Port St. Lucie and nearly two hours southeast of Orlando.
"The question now is, was this a lone wolf acting, or was he recruited by ISIS? Was he directed by ISIS?" Rep. Peter King, R-N.Y., told Fox News.
When asked about possible connections to radical Islamic terrorism, assistant FBI Agent in Charge Ronald Hopper told Fox News, "We do have suggestions that that individual may have gleanings toward that particular ideology. But right now we can't say definitively."
Hopper also said Omar Mateen made "threats in the past that he has ties to terrorist organizations."
The shooter died in a gunfight some three hours after a SWAT team stormed the club. In addition to the dead, the shooting wounded more than 50 people.
Florida Department of Law Enforcement Special Agent in Charge Danny Banks said earlier that the mass shooting was being investigated as an act of terrorism. He said authorities were looking into whether the incident was an act of domestic or international terror, and if the shooter was a lone wolf.
Fox News' Eben Brown, Matt Dean, Peter Doocy, Robert Gearty, Catherine Herridge, Chad Pergram, Mary Rydzeski, Garrett Tenney and The Associated Press contributed to this report.