Florida Missionary Released From Haitian Jail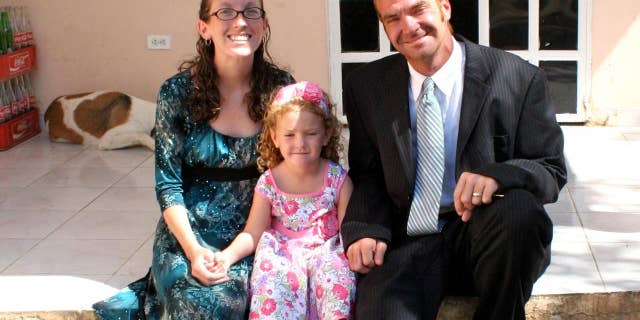 An American missionary has been released from a jail in Haiti after being held five months without charges.
Daniel Pye, 29, a Christian pastor who runs an orphanage with his wife in the southern city of Jacmel, says the judge who jailed him in October signed his release order. Now free from a cell he shared with 28 other men, he is spending a couple of days with the orphans at his mission in southern Haiti before returning to Bradenton, Fla., where his wife, Leann, is about to give birth.
"Our prayers, tears, and words have been heard and responded with a YES!!," Leann, 27, said on the couple's blog Wednesday.
Daniel said on Wednesday that his sudden freedom seems surreal.
"It's been an experience I'll never forget," he told The Associated Press.
The release comes exactly a week after FoxNews.com published a story on Daniel's imprisonment.
The American Center for Law and Justice, which helped secure Daniel's release after signing on to the case Friday, said fear of additional media exposure was key to getting him out.
"We made it very clear that if this was not handled quickly we would go very aggressively to the press about what was happening here and who was not helping," Jordan Sekulow, the director of international operations for the center, told FoxNews.com. "...Instead the Haitian officials that we met with here in D.C. and those on the ground in Haiti got this handled in less than a week."
Judge Maxon Samedy initially jailed Daniel over claims he took property from another group of missionaries -- former associates with whom he split following a dispute last year. He was briefly released on Christmas Eve, then re-arrested and jailed on suspicion of having an invalid residency card.
The head of the other ministry said he never wanted Daniel jailed, and Samedy ruled Tuesday that there was no longer cause to hold him.
One legal expert claimed that Samedy initially jailed Daniel because the judge was angry over getting bumped from a hotel room by a relief organization in the aftermath of the Haiti earthquake.
"Daniel Pye helped an organization rent the place, a hotel or guest house, and he (the judge) was living in the place and the judge at that time was forced to leave," Osner Fevry, a Haitian legal expert assisting in the Pye case pro bono, told FoxNews.com. "I heard that from the prosecutor personally."
Others suggested that the group Joy in Hope, a U.S.-based non-profit organization involved in the hearing with the Pyes, was behind the arrest.
"Two judges wouldn't even take their case … but they finally found their third judge and I will tell you that there are reports that the judge was paid money to follow through on that and that the judge was subsequently paid more money to re-arrest him," said a source who spoke to FoxNews.com on condition of anonymity.
Daniel himself said in a video taken earlier this month that it was a "fellow American" that "stabbed him in the back and put him in jail."
Leann, who had returned to Florida on a doctor's orders, said that the whole situation was very difficult to piece together.
"We agreed to sign everything over to the organization and at that point my husband was handcuffed, and he was led out," said Leann, who is nearly nine months pregnant with the couple's second child. "No one seemed to know what was happening."
Leann's lawyer first suggested that Daniel's arrest might have been a pressure tactic to ensure they followed through with their agreement. But after signing over the disputed assets, Daniel was not released and Samedy refused to reveal why he was being investigated.
Joy in Hope, which denies any involvement in Daniel's detention, said the judge wouldn't tell them either.
"When he was handcuffed none of us understood why," said Joy in Hope director Brian Williams.
Williams told FoxNews.com that the organization was subsequently told "it wasn't a Joy in Hope issue anymore."
Roughly two months later, the couple's lawyer secured Daniel's release with an appeal arguing Samedy had no grounds for his investigation. But just minutes after being released on Christmas Eve, Daniel was re-arrested.
Leann later discovered her husband was accused of being in "possession of a false document" for an ID card he was carrying, which only created more confusion.
While she wasn't sure whether she believed the hotel bump explanation for the legal ordeal, it seemed to "have the most validations behind it."
"Only a judge with personal interest in a matter would do what Judge Samedy is doing in this case … and the judge is not supposed to investigate the case of someone with whom he had in the past those kind of relationships, whether they were bad or good," Fevry said.
Following Daniel's release, an official with the court in Jacmel said Samedy had been transferred to a rural district on Haiti's southern peninsula and was not available for comment.
Conditions in Haitian jails are notoriously bad and the justice system is widely considered to be dysfunctional. The U.N. said in a recent report that nearly 70 percent of the prisoners in the country are still awaiting trial and that the space per detainee is "far below applicable international standards."
Daniel, who has lived in Haiti since 2004 and speaks Haitian Creole, said it felt strange to be suddenly free and relaxing at the beach with the children from his orphanage.
"I sometimes wonder if it was all a dream," he said.
The missionary said he was undeterred by the events of recent months and plans to return to Haiti soon with his daughter to continue the family's work in Jacmel.
The Associated Press contributed to this report.