Florida man who may be linked to Boston bombing suspect implicated himself in unsolved 2011 triple-murder, officials say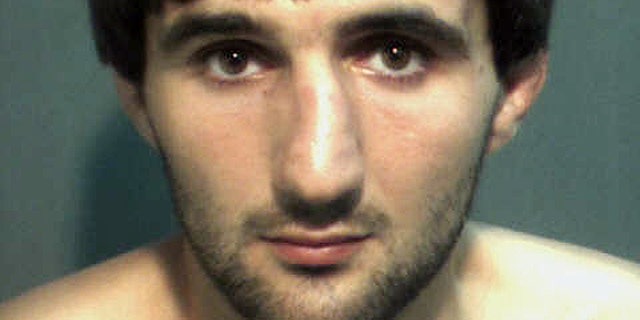 NEWYou can now listen to Fox News articles!
A Chechen immigrant who was shot to death Wednesday by authorities in Florida -- while being questioned about his ties to one of the Boston Marathon bombing suspects -- implicated himself in an unsolved 2011 triple murder, according to authorities.
Ibragim Todashev, a 27-year-old mixed martial arts fighter, was fatally shot at his Orlando townhouse during a meeting with an FBI agent and two Massachusetts state troopers, authorities said. The agent was taken to a hospital with injuries that were not life-threatening.
Officials told The Wall Street Journal that during questioning, Todashev made a series of incriminating statements about the 2011 killings in Waltham, Mass., where three men were found in an apartment, their throats slit and marijuana sprinkled over their bodies.
The victims were Brendan Mess, 25, Erik Weissman, 31, and Raphael Teken, 37, and one was a friend of Tamerlan Tsarnaev, a suspect in the Boston attack that killed three and injured more than 260.
The officials say Todashev implicated himself and Tsarnaev in the killings. Two other officials briefed on the investigation also confirmed to the Associated Press that Todashev implicated himself, and authorities believe Todashev may have been connected to Tsarnaev.
Todashev was about to sign a confession statement, but then became violent, the Washington Times reports.
Three law enforcement officials told The Associated Press that Todashev then lunged at the FBI agent before he was shot. However, two of those officials said later Wednesday it was no longer clear whether Todashev lunged at the agent with a knife.
"The agent, along with other law enforcement personnel, were interviewing an individual in connection with the Boston Marathon bombing investigation when a violent confrontation was initiated by the subject," FBI Agent Dave Couvertier said in a statement obtained by FoxNews.com Wednesday. "During the confrontation, the individual was killed and the agent sustained non-life-threatening injuries. As this incident is under review, we have no further details at this time."
According to friends, Todashev had lived on and off with other Chechens in the Orlando suburb of Kissimmee and had moved to Orlando more recently.
"He's a regular guy, nothing wrong," Saeed Dunkaev said.
Police records, however, suggest he had a hot temper, with arrests in a road rage incident and, more recently, in a fight over a parking space.
Muslin Chapkhanov, another former roommate, said Todashev knew the older Tsarnaev brother.
Todashev "was living in Boston and I think he trained with him," Chapkhanov said.
Public records show Todashev lived in Watertown, Mass., just outside Boston, last year.
Tamerlan Tsarnaev, an aspiring boxer, was killed in a shootout with police days after the April 15 bombings. His younger brother, Dzhokhar, survived and is charged with carrying out the attack that killed three people and wounded more than 260. He's also charged in the murder of an MIT police officer days later.
Former roommate Khusen Taramov said the FBI was asking questions about a conversation that Todashev had with Tamerlan Tsarnaev a month before the Boston attack.
The Tsarnaev brothers have roots in the turbulent Russian regions of Dagestan and Chechnya, which have become recruiting grounds for Islamic extremists. Investigators have said the brothers carried out the bombings in retaliation for the U.S. wars in Iraq and Afghanistan.
An FBI team was dispatched from Washington to review the shooting, standard procedure in such cases.
Todashev was arrested this month on a charge of aggravated battery after getting into a fight over a parking spot with two men — a father and son — at an Orlando shopping mall. The son was hospitalized with a split lip and several teeth knocked out, according to a sheriff's report. Todashev claimed self-defense.
"Also, by his own admission, Todashev was recently a former mixed martial arts fighter," the arresting deputy said in his report. "This skill puts his fighting ability way above that of a normal person."
Todashev was released on $3,500 bail after his May 4 arrest. His attorney, Alain Rivas, didn't immediately respond to a call for comment Wednesday.
Todashev was also arrested by Boston police in 2010 after a road rage incident. Witnesses told police that he argued with two other drivers and cut them off with his vehicle. According to a police report, he yelled, "You say something about my mother, I will kill you."
The Associated Press contributed to this report.