Florida man facing 15 years in prison for waving gun in Facebook video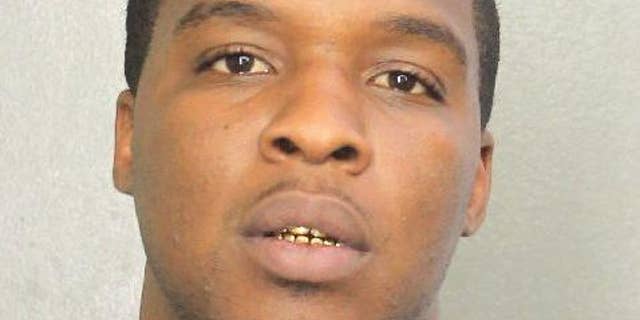 A man in Florida is facing 15 years in prison for waving a gun in a Facebook Live video.
Christopher Brinson, a convicted felon with charges dating back decades, was seen dancing while holding a gun outside a convenience store in the March 20 video. The video was spotted by the FBI, who then flagged it for agents from the Bureau of Alcohol, Tobacco, Firearms and Explosives.
Now Brinson, 31, of Fort Lauderdale is being charged with a federal crime for his possession of the gun. Due to his previous felonies, he's legally prohibited from owning, handling or touching a firearm. In the video posted on his friend's Facebook page, he could be seen holding the weapon and pointing it toward the camera.
Brinson's attorney, Lawrence Hashish, has argued that the video was a "theatrical performance" and that the gun in the video was a fake.
FACEBOOK CLAMPS DOWN ON SICK VIDEOS, BRINGS IN 3,000 ADDITIONAL REVIEWERS
"He was singing and dancing outside a convenience store, not being threatening in any way," Hashish told the Sun Sentinel. "Nobody even called the police."
Plus, he added, the gun was a fake.
"There's no evidence and the government cannot prove it's a real gun," Hashish told CBS. "He would know better than to put himself in that position with a real gun, but he felt that since this was fake it would mean nothing. He had nothing to worry about. It's like having a water pistol."
But court records have disputed that assertion.
Brinson pointed the gun so close to the cell phone camera that a firearms expert was able to vouch that the weapon was a "genuine Glock pistol." The color, shape and locations of the serial number plate on the weapon all indicated it was real, investigators said. The gun in question has not been found by authorities, despite a search of Brinson, his car and his home.
UK POLITICIANS SLAM FACEBOOK OVER ILLEGAL CONTENT
He's previously been convicted of at least eight felonies and at the time of his April 20 arrest was free on bond while facing a state residential burglary charge.
Brinson has not yet indicated if he will fight the burglary charges.