Florida International University students return to campus for first time since bridge collapse
MIAMI – Thousands of students at Florida International University returned to classes Monday after spring break, facing the aftermath of last week's deadly bridge collapse for the first time.
Thursday's tragedy left six people dead and 10 injured when the brand-new 950-ton, 174-foot-long prefabricated bridge broke into pieces and came crashing down, trapping eight cars underneath it.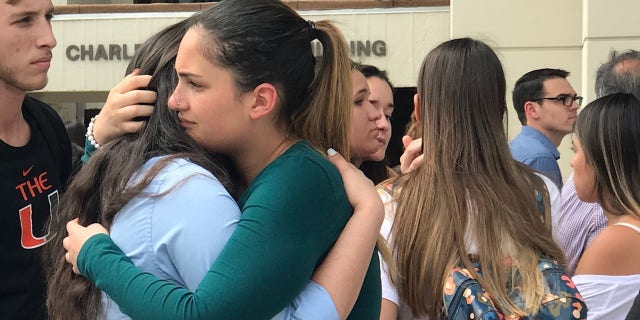 On campus, reactions ranged from shock to anger.
"It was definitely different walking into campus today. I saw people walking with heavy shoulders and their heads down," said Alexandria Mauri. "The bridge was supposed to be a step in the right direction to keep the students safe. I thought it was going to be a good thing, but it just didn't work out that way."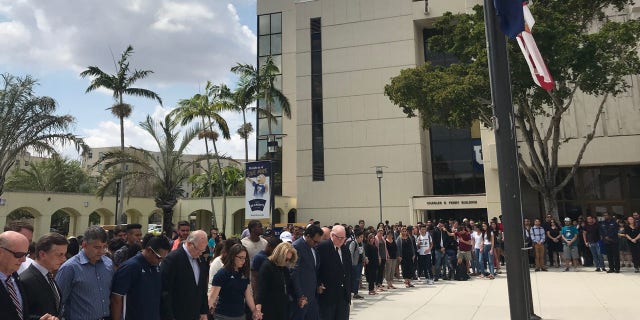 "No one ever expected it to collapse," said student Keith Velasquez. "A couple of my classmates had to step out of the room when we were speaking about it today."
The college was on spring break the week of the collapse.
The school said in a statement over the weekend that "while operationally Monday will be a regular day at FIU, life on (Modesto A. Maidique Campus) will be far from normal. As a university community we continue to grieve the victims of the pedestrian bridge accident."
At 1:47 p.m., the time of Thursday's collapse, a moment of silence was observed throughout campus.
Outside the Graham Center, a hub for student activities and events, FIU President Mark Rosenberg joined students, faculty and staff to remember the victims of the collapse, including 18-year-old freshman Alexa Duran.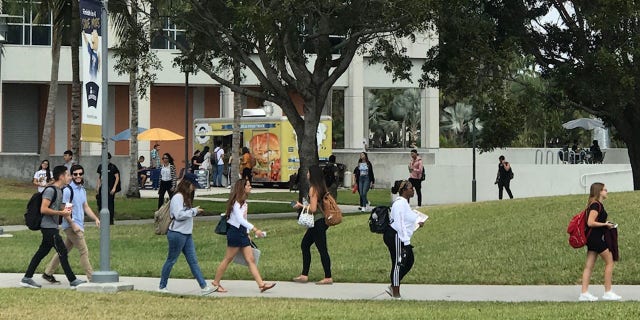 Doreen Patichi said she drives down the street the bridge spanned every day.
"It could've been me," she said, "Southwest Eighth Street is probably one of the busiest streets I've ever been on in my life... the whole point for the bridge was to create safety, which is ironic because it did the opposite."
As one of the largest public universities in the country, FIU boasts enrollment numbers of over 55,000. As the school has grown, so has the traffic problem surrounding it.
Before it collapsed, the highly touted FIU-Sweetwater UniversityCity bridge scheduled to open next year was expected to be a crown jewel of the main campus in west Miami-Dade, offering a safe option for students to cross the eight lanes of heavily congested traffic that line the entrance to campus, an infamous obstacle that's plagued the school and surrounding communities for years with hit-and-run accidents and most recently, a death.
In August of 2017, Alexis Dale, a freshman, was killed when she was hit by a car as she crossed the same street the new pedestrian bridge was built across.
FIU wanted to prevent accidents like what happened to Dale from happening again, so the school and the neighboring City of Sweetwater built the new pedestrian bridge.
"Thank God I was out of town because at that time I would be passing under that bridge for class," said Roger Sanchez, a junior majoring in mechanical engineering. Sanchez said that in his engineering classes, he is taught that safety is the main priority. "We're making things that people are going to use, we don't want them to risk their lives.
When asked whether students will want another bridge built, Angely Ortiz said, "I think if they do build another bridge, students will be scared to use it. I will be scared to cross another bridge, even if they say its safer. If you want to build a bridge, make sure it is done correctly."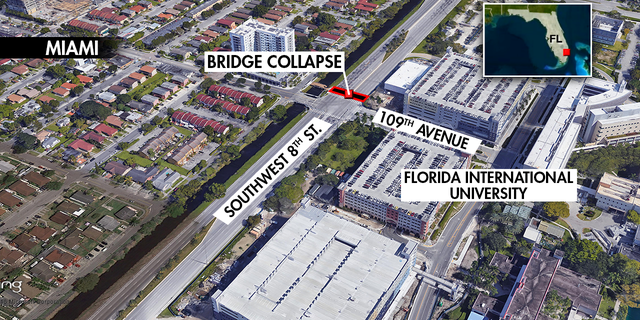 The cause of the bridge failure is still being investigated, including by officials from the National Transportation Safety Board, which has confirmed that crews were applying what's known as "post-tensioning force" on the bridge cables before the collapse.
On Friday, officials said that a bridge engineer left a voicemail with the Florida Department of Transportation two days before the collapse, reporting cracks at one end of the concrete span, but the voicemail wasn't received until after the accident.
NTSB officials are investigating the report but said it's not clear if cracks contributed to the bridge's catastrophic failure.
Rosenberg has also announced an independent investigation of the collapse by the university.
A blood drive for victims being treated at the hospital has been planned for Tuesday. The school's Student Government Association will hold a vigil for the victims on Wednesday and Duran's sorority, Alpha Xi Delta, will host a memorial event Thursday evening.