Florida inmate held on child porn charges allegedly tried to hire 'Rabbi' to kill judge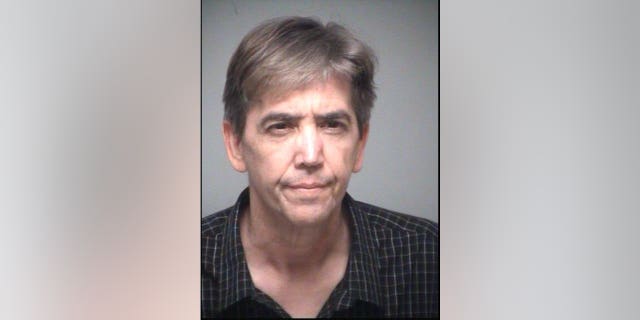 NEWYou can now listen to Fox News articles!
A Florida inmate being held on child pornography charges has been accused of trying to hire a hit man to kill the judge presiding over his case.
Robert Anthony O'Hare, 56, was arrested Monday and charged with solicitation to commit murder against Judge Don Briggs on Jan. 7, WKMG reported. Briggs sentenced O'Hare to 20 years in prison the following day.
Investigators said O'Hare called his mother, Virginia, from Lake County Jail and gave her a coded message which translated to "kill Briggs" — and asked her to pass it along to Albert Bowman, whom he called "the Rabbi."
NEW MEXICO MOM ARRESTED FOR ALLEGEDLY GIVING DAUGHTER, 13, POT EDIBLES
Virginia O'Hare called him back, and told him Bowman "knows what you want … but he can't do it because he's just a 'Rabbi,'" the Orlando Sentinel reported, citing an arrest affidavit.
"The Rabbi" said he wasn't involved in any plot to kill Judge Briggs.
"I'm 75 years old, blind in one eye and have a cataract in the other. I don't think I'd hire me as a killer," Bowman said, adding that he wasn't paid for the alleged job.
"This whole thing right from the get-go is something that doesn't make sense," he said.
Virginia O'Hare denied to the Sentinel that she and her son exchanged a coded message, claiming they were Bible verses.
"These are absolutely bogus charges," the mother said. "My son never, ever in a million years would do something like that."
She claims the Lake Country Sheriff's Office is out to get her son.
Lt. John Herrell told WKMG that, "As far as the weird scale goes, [the case] is off the charts, totally," and added that detectives are investigating Virginia O'Hare.
In 2015, the Florida Department of Law Enforcement found more than 50 images and videos of underage girls on O'Hare's computer, the arrest affidavit said. Agents said O'Hare used an "elaborate telescope and camera system" to videotape a girl who lived next door while she was undressing.
MICHIGAN COPS TO APOLOGIZE FOR BELIEVING LARRY NASSAR OVER 17-YEAR-OLD VICTIM
In 2016, O'Hare was accused of putting hidden cameras inside miniature jukeboxes, which were then delivered to children so that he could record them in their homes.
O'Hare's mother said he pleaded no contest to possession of child porn and video voyeurism so he could appeal the case.
The Associated Press contributed to this report.