Florida gun show sees 'record number' after Parkland school shooting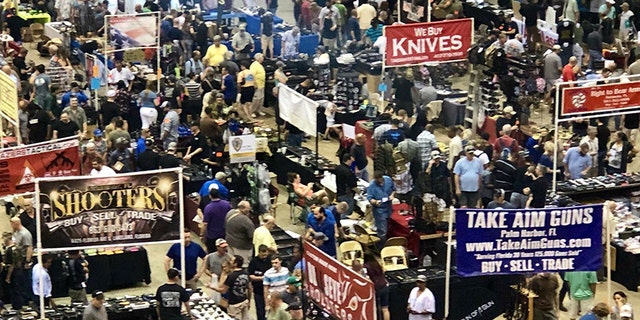 Florida Gun Show organizers said they've never had so many people attend one of their events, amid legislators in the Sunshine state calling for stricter gun legislation.
The gun show over the weekend attracted almost 7,000 attendees to the Florida State Fairgrounds in Tampa, just two weeks after the deadly Marjory Stoneman Douglas High School shooting that killed 17 people.
"Some of the people attending are afraid that future legislation will impact their gun ownership rights," gun show manager, George Fernandez, told WTSP.
Florida Sen. Bill Nelson called for stricter gun laws on the so-called "gun show loophole," allowing people to purchase a gun at one of these events without getting a background check – in addition to an assault weapons ban.
Nelson told the local news station that the number of deaths has increased since the NRA killed the law in 2004.
Fernandez took issue with Nelson's push because he said it wouldn't have stopped the massacre in the Parkland school shooting. He said the shooter had mental health issues and should've been identified by law enforcement from the beginning.
He added that 95 percent of the vendors at the show were required to run background checks because they are licensed dealers, but the other five percent are private citizens.
The company canceled their gun show next month in Fort Lauderdale after Mayor Jack Seiler asked that it be shut down out of respect to the Parkland victims, but they plan to sponsor another Tampa show in late April or early June.