Florida fraternity censured, loses national charter over Facebook posts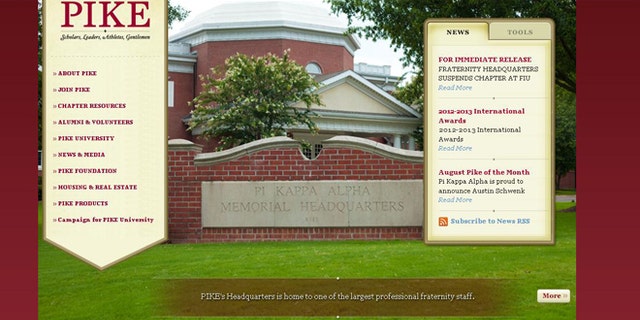 It was "Animal House" -- Facebook style.
A Florida fraternity reportedly has been censured for maintaining a "private" Facebook page where members allegedly posted, among other things, where to buy and sell drugs, photos of topless college women, anti-gay slurs, alluded to hazing, and even suggested a strategy for turning the Boston Marathon bombing into "excellent publicity."
The Miami Herald reports Florida International University ordered its Pi Kappa Alpha chapter, or Pike, to cease all meetings and events after someone anonymously emailed screenshots of about 70 posts from the private page to various media outlets and university officials.
The fraternity also lost its charter from the national organization.
Pike's national Executive Vice President Justin Buck called the behavior of FIU's chapter "disgraceful, offensive and indefensible," in a written statement, according to the paper.
[pullquote]
"Anyone have a connect for coke. Not me, a friend wants, lol," one group member reportedly wrote on the "private" page, while another post seemingly concerns a supply of the prescription drug, Adderall: "30mg of addy 10 starting tomorrow. 15 for non brothers."
Other posts boasted about hazing, which can be a third-degree felony in cases of serious injury.
"Hazing is amazing," one said, according to the Herald report. Another exchange: "When does this retreat end?" "When the pledges die."
"The university is taking this information very seriously. . . As a result, the fraternity has been instructed to cease all meetings and events," FIU responded in a statement, while a school spokesperson reportedly added that it was the anonymous email that sparked the institution's investigation.
Meanwhile, FIU President Mark B. Rosenberg told CBS 4 News the fraternity offenders were limited to "a few individuals who need to understand what matters and that have damaged the reputations of others."
Calls placed by The Herald to a number listed on the FIU Pi Kappa Alpha's official Facebook page went unanswered.
The "private" page's posts reportedly run the spectrum from bawdy to tasteless.
Following the Boston Marathon bombings, one frat brother posted the following to the page:
"Guys please put up the PIKE Prays for Boston Banner that's upstairs outside so that when people start arriving tomorrow morning they see it. This is excellent publicity!"
Meanwhile, other posts repeatedly mock women the fraternity's brothers thought overweight, with some even going so far as to prohibit the sale or gifting of fraternity T-shirts to anyone other than girls deemed attractive.
Few were spared, according to The Herald, which wrote that a post on FIU's "private" Facebook page characterized the members of one campus sorority as, "the biggest sluts on campus," while anti-gay slurs were often posted to mock other fraternities on campus.