Florida firefighters throw baby shower for expecting mother who lost everything in fire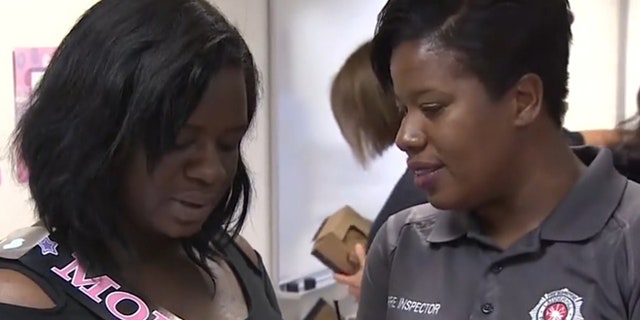 NEWYou can now listen to Fox News articles!
The Lauderhill Fire Department threw an expecting South Florida mother a baby shower after she lost everything in an apartment fire.
Firefighters surprised Nicola Taylor with the shower, Wednesday, after she and her family's Lauderhill apartment caught fire last week.
"God is amazing," Taylor said. "This is more stuff than I had. Thank you."
Taylor was hospitalized due to the fire and is OK, but for many firefighters, this incident stuck with them.
"Having a family myself, I have two young kids and going through that whole process of having a baby shower, having the babies, it hit home," said B.J. Smith, a Lauderhill firefighter.
TEXAS FIRE DEPARTMENT HIRES FIRST FEMALE FIREFIGHTER IN ITS HISTORY
Lauderhill Fire Captain Jerry González said Taylor's story made an impression on the firefighters who weren't even there. "They heard the story, they saw the condition of the apartment and their hearts were broken, " he said. "They're people just like everybody else, and their hearts were broken with this story. She's eight months pregnant and lost everything in a baby shower just recently, and they wanted to do something."
They collected donations and received everything from baby clothes to baby carriers, gifts and gift cards, and even a Tiffany necklace.
Officials left the best gift for last. "The members of the fire department, the community, the people have donated. We were able to get you a new lease, a new apartment," González said as he handed Taylor the keys. "We've covered your deposit and a few months rent."
Not only will the Taylor family have a brand new apartment to go home to, but they'll also have brand new beds and mattresses. City Mattress along with Sweet Dream Makers donated everything the family could possibly need to sleep soundly at night.