Florida disc golfer bitten by alligator in pond
A man was bitten by an alligator while playing disc golf at a Florida park Monday, authorities said.
Richard Peel, 35, was playing disc golf at Cliff Stephens Park in Clearwater when the incident occurred. He was bitten after trying to retrieve his disc from a pond, Clearwater Fire Rescue officials said.
Witnesses locked arms to pull Peel to safety, Derrick Moody, who lives near the park, told FOX 13 Tampa Bay.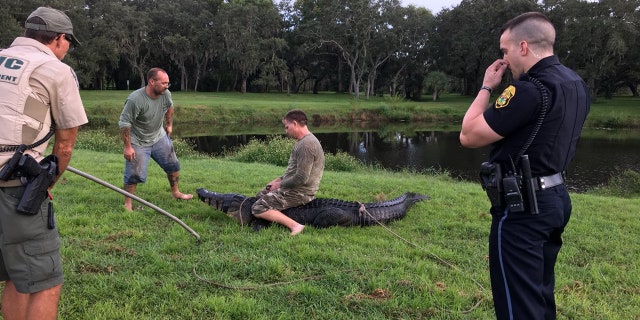 "I guess they ran over and formed a ladder with each other and they were able to pull him out," Moody told the station.
Peel was taken to the hospital, but his injuries didn't appear to be life threatening, officials said.
Video on social media shows rescuers tying up the 11-foot alligator and loading it onto a truck.
"The alligator was seen prior to him going into the water, so we always recommend that people stay away from murky waters," Florida Wildlife Commission spokeswoman Ashley Tyer told FOX 13.
A second, smaller, alligator was also removed from the pond as a precaution.