Florida deputies rescue puppy locked in hot car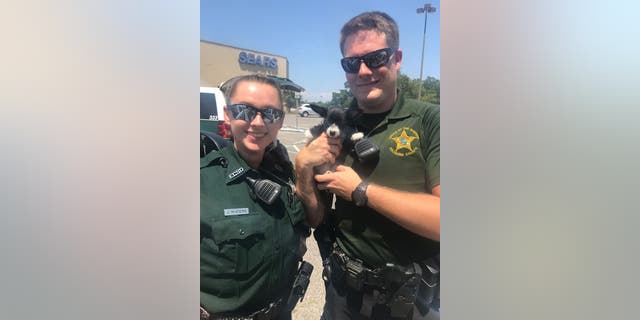 NEWYou can now listen to Fox News articles!
A deputy and deputy trainee with a Florida sheriff's office rescued a puppy locked in a hot car Saturday, authorities said.
The Escambia County Sheriff's Office Deputy Sheriff Matheny and Deputy Sheriff Trainee Waters responded to a call about the puppy, which was "squealing, panting heavily, and in distress," authorities said in a Facebook post, adding Saturday's temperature reached 92 degrees.
The car's driver was nowhere to be found, according to the statement.
Since the puppy was in a "continued state of panic and distress," Matheny decided to break the driver's side window and pull the puppy out.
While the two were waiting for local animal control officials, they gave the puppy water and kept her in the air-conditioned patrol car.
The driver of the car and owner of the dog, later identified as William Sparkman, 25, was arrested and charged with an animal conservation offense, according to the sheriff's office. The Tallahassee Democrat reported that Sparkman was released the same day he was arrested on a $1,000 bond.