Florida deputies: Ex-cop was drunk when he hit five kids, killing one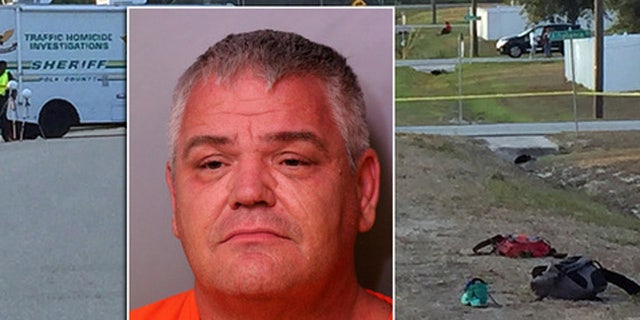 Sheriff Grady Judd says a drunk driver who hit five teens Thursday afternoon in Florida -- killing one -- is a retired law enforcement officer who, hours after the crash, was still nearly twice the legal limit for driving.
"He read a 0.14 [BAC] seven hours after the crash. He was drunk. He was very drunk," Judd told FOX 13 on Friday.
MARYLAND MANHUNT: INMATE SERVING TIME FOR ATTEMPTED MURDER OF POLICE ESCAPES
The Polk County Sheriff's Office says John Camfield clipped one of the teens along Allegheny Road near Athabasca in Poinciana after they had gotten off the school bus and were walking along the shoulder of the road, and then hit the others while driving away.
"He mowed them down, ran through them like a bowling ball through bowling pins." Judd said. "It's devastating in the greatest sense of the word."
One of the victims was the 11-year-old daughter of an off-duty deputy. He ran outside barefoot after getting a frantic phone call from her and assumed the worst as he came upon the injured children.
"I've been doing this job for four years and I've seen a lot. I've been involved in a lot," Deputy JJ Quintana recalled, fighting back tears. "Nothing compares to hearing your daughter ask for help and you can't."