Florida couple's 'getaway' treehouse must come down after Supreme Court declines to hear case
A Florida couple couldn't "getaway" with keeping their treehouse up.
The Supreme Court declined to take Lynn Tran and Richard Hazen's case, a decision which forces them to tear down their elaborate two-story treehouse beachfront "getaway." The treehouse was built on their Holmes Beach property on Florida's Anna Maria Island. The couple brought the case to the Supreme Court after a Florida court ruled they needed a permit to build the house.
Ironically, in order for the couple to take down the treehouse, they will also need to obtain a city permit, WTSP reported.
Tran and Hazen said they built the treehouse in 2011 after city officials told them they didn't need a permit to construct it. They spent six months and $30,000 to construct the beachfront treehouse — complete with hammocks, working windows and a view of the Gulf of Mexico.
"It's hard to describe," Tran told WTSP. "It brings the inner child inside you out."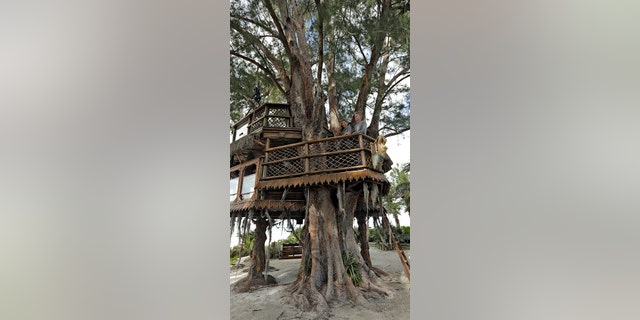 However, someone complained about the structure and after some digging, the city determined the couple needed a permit to build it. The treehouse was also located in an area where building is prohibited because of a city setback. The couple tried to take the fight to local voters but they were ultimately stopped.
Tran and Hazen have paid thousands of dollars to keep the treehouse from getting torn down, including paying a daily $50 fine. Their lawyer, David Levin, said his client's rights were violated when a Florida court "rubber stamped" a ruling proposed by Holmes Beach officials without any evidence of independent consideration.
Tran previously told WTSP it would be "hard to think about" the possibility of the Supreme Court not taking their case, adding the couple "didn't do anything wrong."
The likelihood of the Supreme Court taking the treehouse case was slim to begin with. The justices only hear about 80 of the thousands of cases that are requested yearly.
Fox News' Elizabeth Zwirz and The Associated Press contributed to this report.