Florida college student who praised mass shooters allowed to buy guns, judge rules
A Florida college student who praised mass shooters online will be allowed to buy guns should he choose to, a judge ruled Monday.
Christian Nicholas Velasquez, 21, was temporarily banned from owning any weapons or ammunition under the state's new gun law passed after the Parkland shooting, according to the Sun-Sentinel. Circuit Judge Bob LeBlanc declined Orlando police's attempt to extend the ban to a full year.
"I don't disagree with the issuing of the initial temporary injunction. I think that's exactly what the statute provides for," LeBlanc ruled.
Velasquez, a University of Central Florida student, was investigated by campus police after authorities received a tip from the community about a Reddit user, "TheRealUCFChris," calling the alleged Parkland shooter Nikolas Cruz and the Las Vegas gunman Stephen Paddock heroes, the newspaper reported.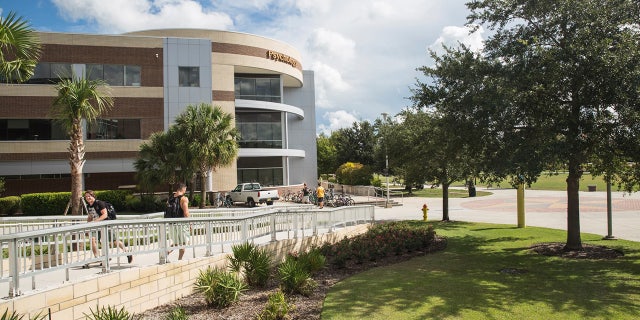 UCF Officer Jeffrey Panter asked Velasquez hypothetical questions, including whether the school would be his target, according to the Sun-Sentinel. Velazquez reportedly told Panter that he would more likely target a middle school or high school where he had been bullied, but it would take a tragic event to provoke him.
Velasquez was taken to a mental health facility, but a doctor who evaluated him deemed him to be not a threat, the newspaper reported. An Orlando detective, an FBI agent and Panter received a revolver from Velasquez's father and were allowed to search his room.
Kendra Parris, Velasquez's lawyer, argued that an extension of his ban would have prevented him from attaining future employment and that he was being punished for free speech. She said that Velasquez hadn't indicated he was going to commit an atrocity, citing his lack of criminality and lack of a weapon.
Parris also said Velasquez told police he could never imagine committing a mass shooting, adding that he "wanted to look like a bada** on Reddit."
Alexander Karden, the city's lawyer, said mental health evaluations of Velasquez had revealed that Velasquez showed three of the five steps of progression toward committing some kind of violence, according to the Sun-Sentinel.
"He's following the trajectory," he said. "This statute is not designed for someone who's already gone over the top. It's designed to stop them before they get there."
Parris told the Orlando Sentinel the family will pursue civil action against Orlando police.