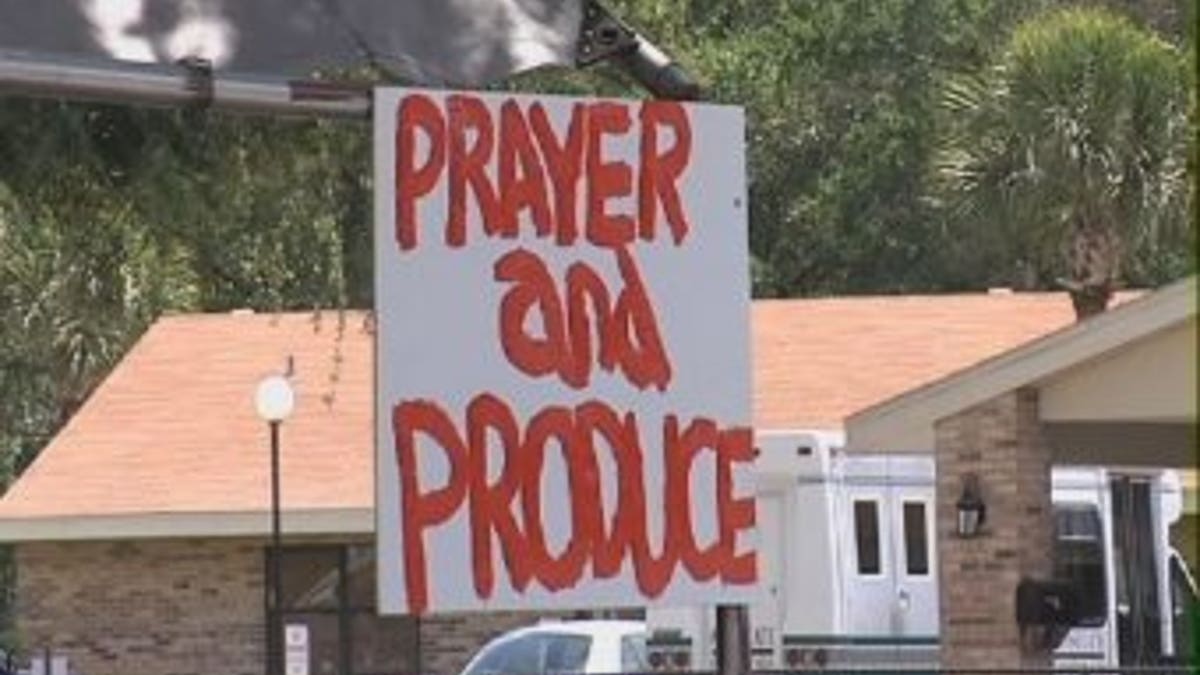 A Florida town is ordering a church to move a produce stand where the needy can get free food grown by the faithful, saying its location violates zoning laws.
Members of the Believers' Fellowship Word of Faith Church in Lakeland started a garden on the 6-acre church grounds two years ago, growing everything from zucchini to onions to watermelons. At first, they gave the food out for free. But when demand outpaced supply, they added inventory donated by other local growers, expanded the tent to the roadside and began taking optional donations. All proceeds — $500 in a typical week — go back into the garden for seeds, fertilizer and more.
"We still needed more," Associate Pastor Jonathan Freidt told FoxNews.com. "It just kind of grew from there."
The burgeoning food stand caught the eye of a city code enforcement officer, who informed Friedt that the church's property zoning regulations prohibited such use. Friedt disagreed and refused to move it, prompting officials to cite the church in February for operating a produce stand in a residential zone.
[pullquote]
City spokesman Kevin Cook said code officials checked up on the church three more times in March and April, and each time found the stand going strong. Now the city has scheduled a hearing on Friday to determine if the church is engaging in a commercial activity in a residential-zoned area.
"We are happy to have this faith-based ministry and others to serve the many varied needs of the citizens of Lakeland, including food ministries," Cook wrote in an email to FoxNews.com. "This particular church operated a food distribution ministry previously that was NOT deemed to violate any code based on where it operated. That has changed recently with the roadside tent/produce stand that has been set up along the side of the road."
City authorities have told church officials they can continue to operate the produce market, but need to take the operation indoors based on the zoning issue, Cook said. Freidt rejects the idea of moving it indoors or seeking a variance in the zoning ordinance.
"My church and the churches of the majority of those serving on the City Commission have food and other outreach ministries providing for those who need assistance and a helping hand," Cook's email continued. "The City is not opposed to their existence or operation."
Friedt, however, says the church won't be packing up the produce stand and its accompanying tents anytime soon.
"We will have to fight against this," he said. "It's our God-given right to share the Gospel of Jesus Christ. That's our number one mission of the church. We feel it necessary to stand up for our right to minister outside our four walls."
Friedt, who said the produce stand often serves free fruit and vegetables to the poor, think the issue is another example of "freedoms being diminished" in the United States.
"Something as basic as the right to food," he said. "To try and squash those rights, at some point you've got to say: 'We've rolled over enough. If we don't stand up now, when will we?'"