Florida businessman targeted as 'predator' for renting office space to ICE
For the past two days, a Florida city has been littered with fliers accusing a local businessman of being a predator who profits from "sexual violence, physical abuse and the caging of undocumented people" -- all because he rents office space to the Immigration and Customs Enforcement agency.
Chuck Prather, of St. Petersburg, said protesters who are angry with the Trump administration's zero-tolerance illegal immigration policy are targeting him because he leases an office complex in Tampa to the government. It's an agreement that goes back 21 years and was recently renewed.
"They are trying to terrorize me," he told Fox News on Thursday.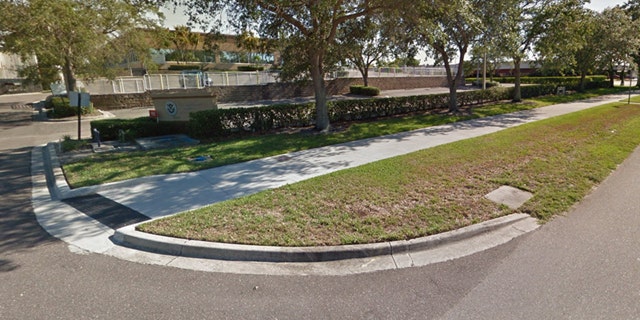 On Wednesday, dozens of fliers showing his image were posted around St. Petersburg's downtown area, where he owns several businesses, including the Birchwood Inn.
"I was taking my son to school yesterday when my elderly neighbor who walks dogs for a living came up to me and said, 'I need to talk to you,'" Prather said. "[She said] there are posters all over town. It has a big picture of you and it says that you are a predator. What is going on?'"
Prather added: "They were everywhere."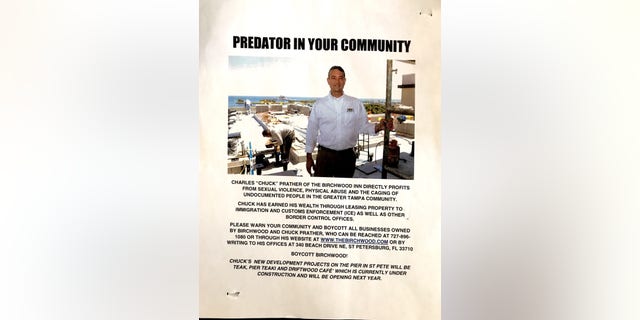 The fliers, which call for people to boycott all of Prather's businesses, say in part: "Charles 'Chuck' Prather of the Birchwood Inn directly profits from sexual violence, physical abuse and the caging of undocumented people in the greater Tampa community. Chuck has earned his wealth through leasing property to Immigration and Customs Enforcement (ICE) as well as other border control offices."
And the harassment campaign didn't stop there.
On Thursday morning, Prather woke up to find more posters plastered around his home, and the words "EVICT ICE" spray painted on the sidewalk.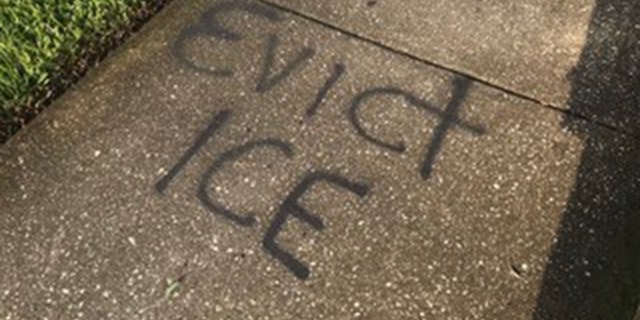 "This is all about ICE. This is nothing about me being a predator, which I am not," he said.
Surveillance photos, provided to Fox News, from outside the Birchwood Inn show two people putting up the posters.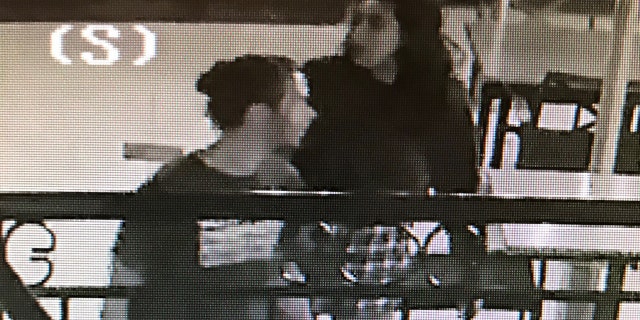 "It's horrifying," Prather said. "I have 175 employees. They are completely innocent [and] their livelihoods are being targeted."
The U.S. government – not ICE, specifically – has leased the building complex from Prather since 1997, and he said he hasn't had any problems until the protests began last month. He said a few weeks ago he had to pay $10,000 to repair damage to the Tampa building caused by vandals.
A spokeswoman for the St. Petersburg Police Department told Fox News on Thursday officials are looking at surveillance footage to figure out if any laws have be broken, adding freedom of speech is at play in the determination.
Prather said he is looking at all legal avenues available to him.