Florida bridge collapse seemed 'like a bomb had exploded,' witness says; another recounts bloodied boy 'begging' for help
Witnesses to Thursday's deadly collapse of a newly installed pedestrian bridge at Florida International University in Miami recounted a "terrible" scene that left cars crushed like "sardine cans."
Officials have confirmed that six people died, including a Florida International University student, and 10 others have been hospitalized, two with critical injuries.
Authorities said more cars may still be trapped underneath the bridge. It was not immediately clear if any of the dead are trapped in the cars stuck under the collapsed structure.
It was not immediately clear why the bridge collapsed. Miami-Dade Mayor Carlos Gimenez said employees were "conducting a stress test on the unfinished and vulnerable bridge."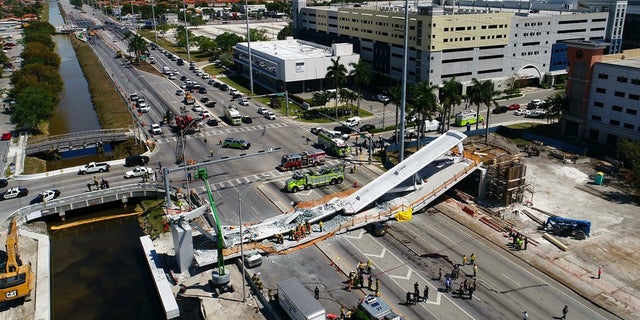 Florida Sen. Marco Rubio tweeted: "The cables that suspend the Miami bridge had loosened & the engineering firm ordered that they be tightened. They were being tightened when it collapsed today."
Lianet Sado, who owns a restaurant near the site of the collapse, told Fox News' Shepard Smith that she saw a bloodied child begging for help from a flattened vehicle.
"It's basically like getting a Coca-Cola can and throwing a 57-pound rock on top of that Coca-Cola can until it becomes nothing."
"There was a car that was completely crushed on the front part, so it was very safe to assume, unfortunately, that the driver and co-pilot were both crushed completely," Sado said. "But then there was this young boy in the back of the car, full of blood, and basically begging for someone to help him. And that's something I'm not going to be able to get out of my head because I'm a mother of a kid, too."
Sado said the police quickly moved her away from the scene.
The eight cars crushed by the bridge resembled "sardine cans," Sado added.
HOSPITAL SAYS TWO PATIENTS IN 'EXTREMELY CRITICAL CONDITION'
"Those cars -- if you see them from in front, it's basically like getting a Coca-Cola can and throwing a 57-pound rock on top of that Coca-Cola can until it becomes nothing," she said.
Another witness described initial efforts by bystanders like Sado to help the wounded.
"I saw there were multiple cars crushed under the bridge," Jacob Miller, a senior at FIU, told reporters, according to Fox's KPTV. "It was just terrible. I saw some people stopping their cars, trying to get out, trying to assess the situation to see if there is anything they could do to help."
Local police detective Juan Llera told the station he came across one construction worker who was losing consciousness, another with a leg injury, and a third who was lying unconscious in the street.
"I heard a 'boom' like a bomb had exploded," he said. "At first I thought it was a terrorist attack."
PRESIDENT TRUMP CALLS FLORIDA COLLAPSE 'SO TRAGIC'
Llera said he began performing CPR on one of the injured workers.
The companies involved in the construction of the bridge have been accused of negligent safety practices.
Miami-based Munilla Construction Management, which reportedly took on the bridge contract, was accused in a lawsuit from earlier this month of hiring "incompetent, inexperienced, unskilled or careless employees."
The Associated Press contributed to this report.