Florence forecast to become 'major hurricane,' moving towards southeastern US
Hurricane Florence regained its strength Sunday as weather officials predicted it will turn into a "major" storm as it aims for a possible hit on the southeastern U.S. later this week.
According to the National Hurricane Center, Florence is "forecast to become a major hurricane on Monday," and is expected to grow larger and move faster over the next few days.
As of 5 p.m. Sunday, Florence was centered around 720 miles southeast of Bermuda and moving west at seven miles per hour. The storm crossed the 74 miles-per-hour threshold from tropical storm to hurricane Sunday morning, and by evening its winds were up to 85 mph. Forecasters warned that it could be a fearsome Category 4 with winds of 130 mph or more by Tuesday.
HURRICANE WARNING VS. WATCH: HOW ARE THEY DIFFERENT?
The hurricane center said it's too early to know what path the storm will take, but that it could hit the coast of the Carolinas by Friday.
"There is an increasing risk of two life-threatening impacts from Florence: storm surge at the coast and freshwater flooding from a prolonged heavy rainfall event inland," the Miami-based center said in the advisory.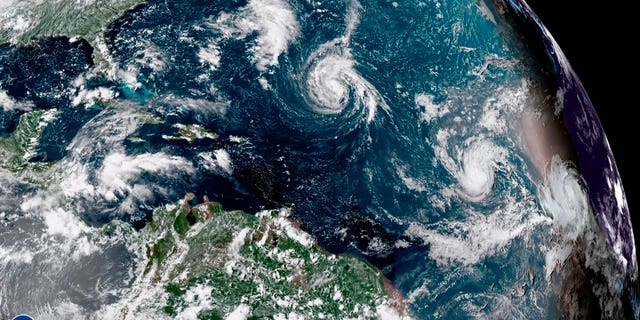 Meteorologists warned that "large swells" hitting Bermuda and the eastern coast will continue throughout the week, which "will result in life-threatening surf and rip currents."
Forecasters urged residents from South Carolina to the mid-Atlantic to get ready — and not just for a direct blow against the coast. They warned that Florence could slow or stall after coming ashore, with some forecasting models showing it could unload a foot or two of rain in places, causing devastating inland flooding.
The governors of North and South Carolina, along with Virginia, have declared states of emergency in preparation for the storm.
South Carolina Gov. Henry McMaster emphasized Saturday that there's no way to know yet when and where the storm will hit land, or when evacuations might be called.
"We are preparing for the worst and of course hoping for the best. Being prepared is always the best strategy," McMaster said.
In Charleston, S.C., along the coast, city officials offered sandbags to residents. Myrtle Beach Mayor Brenda Bethune urged people to secure their homes but said it's too early to know if evacuations will be ordered.
HURRICANE FLORENCE BECOMES FIRST MAJOR STORM OF 2018 ATLANTIC SEASON
Myrtle Beach hardware stores and supermarkets were busy ringing up sales of bottled water, plywood and generators.
"Literally, they are filling buggies full of water, shopping carts full of water," Ryan Deeck, grocery department manager at a Walmart, told The Sun News. "They're coming in and buying water and plates, and that's about all they're buying."
North Carolina officials started getting bulldozers and chain saws ready.
Florence's effects were already being felt along the coast, with dangerous swells and rip currents in some spots. On North Carolina's Outer Banks, the town of Nags Head posted no-swimming flags on beaches.
In Jacksonville, N.C., about 20 miles from the coast, some residents picked up hurricane supplies during their normal weekend shopping, The Daily News reported. Ilija Cesal told the newspaper he wouldn't worry about buying extra water or other supplies for a few more days.
"I'll see by Wednesday how that goes — we got over 48 hours before that happens," Cesal said.
The U.S. Navy on Sunday ordered its warships and submarines at Naval Station Norfolk to prepare to leave the port as early as Monday.
Florence briefly became a Category 4 hurricane last week, the first of the 2018 Atlantic season. It later weakened to a tropical storm after encountering strong wind shear and cooler waters.
Meanwhile, two other storms — Helene and Isaac — were following behind Florence in the Atlantic, but those storms were expected to be less of a threat to the U.S., forecasters said. Tropical Storm Helene is expected to become a hurricane in the next few days.
Fox News' Katherine Lam, Lucas Tomlinson and Frank Miles and The Associated Press contributed to this report.