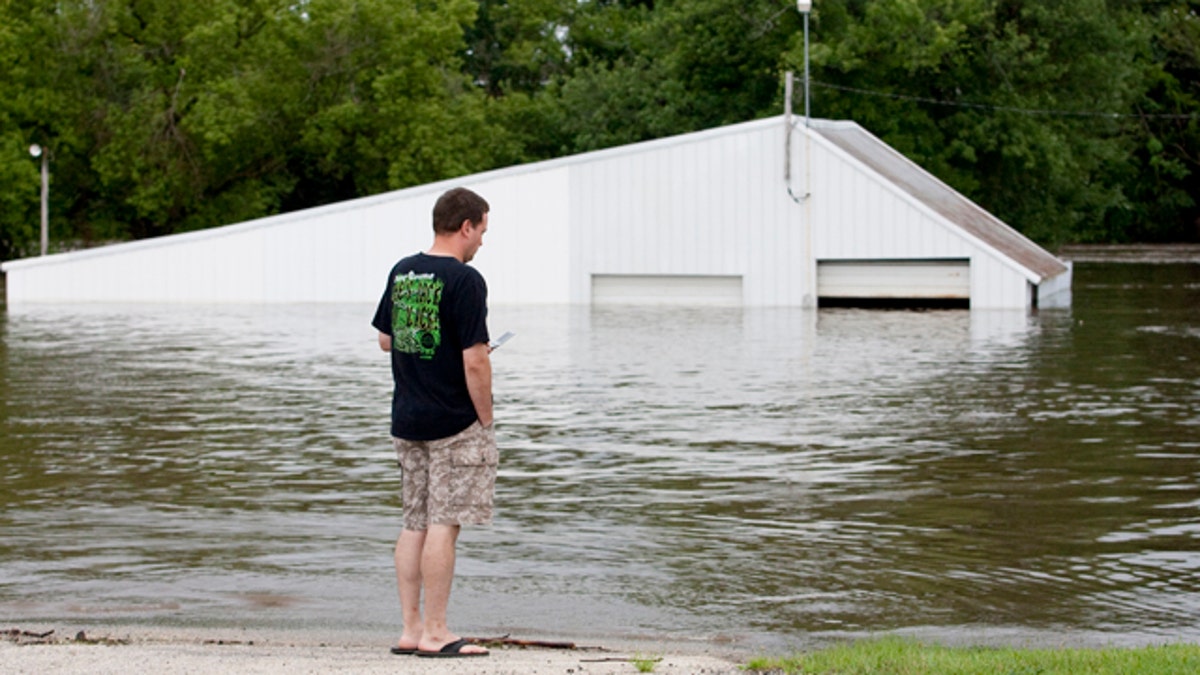 MONTICELLO, Iowa – Flooding from the Maquoketa River after the Lake Delhi dam failed has damaged dozens of homes and businesses, causing millions of dollars in damage in Monticello, officials said Sunday.
The Lake Delhi dam in eastern Iowa failed Saturday as rising floodwater from the Maquoketa River ate a 30-foot-wide hole in it. Areas below the dam, including in Hopkinton and Monticello were evacuated.
"It is simply unbelievable. This is unprecedented. We've had floods before and we've always been able to contain the situation and minimize the damage, but with Mother Nature's fury ... there was no way to do anything about it," said Mike Willey, president of the board of directors at the Lake Delhi Recreation Association. "There was simply too much water."
The river crested upstream of the dam at Manchester early Saturday afternoon at 24.53 feet — more than 10 feet above flood stage and well above its 2004 record of 21.66 feet — before it began to slowly recede.
About 50 homes and 20 businesses had major flood damage and the city's sewer plant had been flooded and shut down about 7 p.m. Saturday, said Monticello Public Works Director Dana Edwards.
Most of the city's 3,700 residents could flush their toilets, but the waste was pouring into the river. Still, environmental damage shouldn't be great because the waste was being diluted by the flood water, Edwards said.
The city's drinking water system was working, "but we are asking people to use as little water as possible," Edwards said.
Damage to private property would likely be in the millions of dollars, Edwards said. The cost of repairing the sewer plant wouldn't be known until workers could get inside to assess the damage.
Pumps from the U.S. Army Corps of Engineers and the city were being put into the city's main sewer lines to try to keep water out of residents' basements.
The hydroelectric dam on the Maquoketa River that created Lake Delhi in the 1920s is no longer used for power but maintains the lake for recreational purposes.
___
Information from: The Des Moines Register, http://www.desmoinesregister.com