FIU bridge collapses; 6 killed, 10 injured, officials say
Six people were confirmed dead after a newly installed pedestrian bridge at Florida International University collapsed Thursday, leaving at least eight vehicles trapped under the sprawling wreckage.
Miami-Dade Fire Chief Dave Downey told reporters at a news conference that six people were killed after the structure, touted as an "Instant Bridge," collapsed around 1:30 p.m. at the Miami-area university.
Dr. Mark McKenney, of the Kendall Regional Medical Center in Tamiami, said during a news conference that the hospital had taken in 10 patients — two of them in "extremely critical" condition. One person arrived at the hospital in cardiac arrest but survived, and a second has a serious brain injury.
The other eight are in stable condition with "bruises and abrasions to broken bones."
A search and rescue operation is underway; authorities are using dogs to search for anyone who may be trapped beneath the rubble.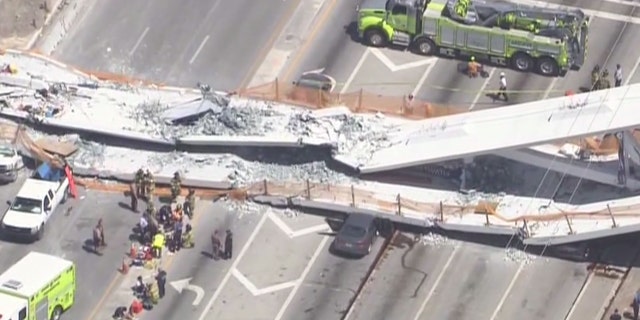 The Sweetwater Police Department told Fox News, "We're just trying to save lives." Sweetwater Mayor Orlando Lopez called the collapse a "national tragedy."
"Continuing to monitor the heartbreaking bridge collapse at FIU - so tragic," President Trump tweeted. "Many brave First Responders rushed in to save lives. Thank you for your courage. Praying this evening for all who are affected."
Vice President Pence said he was "saddened by the news," adding that he and Trump will "continue to monitor developments closely."
Florida Gov. Rick Scott tweeted he was en route to the university "to be briefed by local law enforcement and university officials," and said he would be "in constant communication with law enforcement throughout the day."
And Florida Sen. Bill Nelson tweeted that his "heart goes out to the victims and the families affected by this tragic bridge collapse @FIU."
The bridge, projected to be finished in early 2019, was set to link the university's Modesto A. Maidique Campus to the town of Sweetwater, where an estimated 4,000 students live, The Miami Herald reported. A $14.2 million project, the structure was installed on Saturday, with many celebrating the new construction.
The university called it a "one-of-its-kind pedestrian bridge" that "swings" into place.
"FIU is about building bridges and student safety. This project accomplishes our mission beautifully," President Mark B. Rosenberg said, according to a tweet by FIU.
Florida Sen. Marco Rubio, in a press release requesting the U.S. Department of Transportation (DOT) address the "bridge's design, construction, and ultimate failure," stated the bridge was installed on Saturday in just six hours.
DOT said in a statement that Transportation Secretary Elaine Chao has been in contact with congressional officials and has "offered the full assistance and support of the department for both the immediate and long-term needs the community will have."
The National Transportation Safety Board (NTSB) is sending a team to investigate the collapse.
Munilla Construction, the company that built the bridge, tweeted earlier Thursday that "the local community gathered" on Saturday to watch the crossing move into place. In a followup tweet, the company called the bridge collapse a "terrible tragedy" and said the family business was "devastated and doing everything we can to assist."
The construction company added it would be cooperating with investigators "in every way."
FIGG Engineering, the company that designed the bridge, said that in their "40-year history, nothing like this has ever happened before." FIGG added the company would "fully cooperate with every appropriate authority in reviewing what happened and why."
Construction workers at the scene told WPLG that the bridge was undergoing a "stress test" when it collapsed, but officials have not confirmed that detail.

Fox News' Shira Bush, Chad Pergram and Matt Richardson, along with The Associated Press, contributed to this report.