First officer on trial in Freddie Gray death defends his actions on the stand
The first Baltimore police officer on trial for the death of Freddie Gray in custody took the stand in his own defense Wednesday, strongly denying police had a culture of "stop snitching."
Officer William Porter faces manslaughter, assault, misconduct in office and reckless endangerment charges. If convicted on all of the charges, the maximum penalty he faces is about 25 years. He was the second witness called by the defense.
Prosecutors say Porter failed to call for a medic after Gray said he needed one and the officer didn't buckle Gray into a seat belt when he was riding in the back of a police wagon in April.
"I didn't call for a medic because after talking to Freddie Gray he was unable to give me a reason for a medical emergency," the officer testified. He said Gray seemed fine at first, able to sit up himself and answer questions, leading the officer to wonder if Gray was feigning injury to go to the hospital instead of Central Booking, a tactic he called "jail-itis."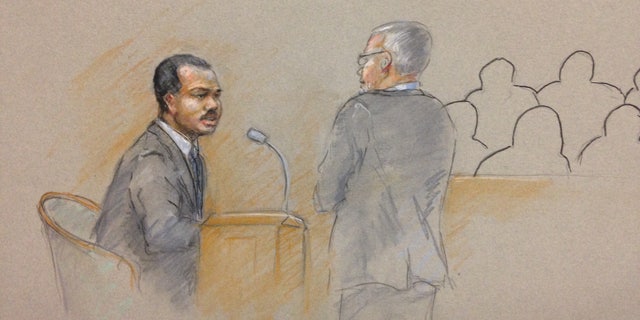 During cross-examination, Porter stayed mostly calm. But when a prosecutor asked if police had a culture of secrecy, the officer became defensive and said, "Absolutely not and I'm actually offended you would say that."
Earlier, defense attorney Gary Proctor had a fellow defense attorney lie face down on the floor in the middle of the courtroom and asked Porter to show the judge and jury how he helped Gray off the floor of the police transport wagon and up onto one of the benches.
Porter testified that Gray helped in the process, and that he could not have lifted the 150-pound man onto the bench if he was completely limp.
"Did you have any idea he was injured?" Proctor asked. "None at all," Porter answered. The state's assistant medical examiner previously testified that Gray suffered a catastrophic spinal injury and that he would not have been able to move any muscles below his neck.
Porter was asked whether Gray said he couldn't breathe at the van stop. He testified, "absolutely not."
One of the prosecution's witnesses, however, testified that she called Porter days after Gray's injury to ask what had happened and that the officer told her that during the van's fourth stop, Gray complained that he couldn't breathe. Detective Syreeta Teel, an internal affairs investigator, said the call was not recorded and at the time, Porter was a witness, not a suspect.
In a later recorded statement played for jurors, Porter said Gray only asked him for help off the van floor, and said yes when Porter asked if the man needed a medic. Referencing the phone conversation is the only attempt prosecutors made to substantiate the claim that Gray told Porter he couldn't breathe.
When asked why he didn't buckle Gray into a seat belt, Porter testified that the wagon is "pretty tight." He said he's been a part of about 200 arrests involving wagon transport and no prisoners were belted in.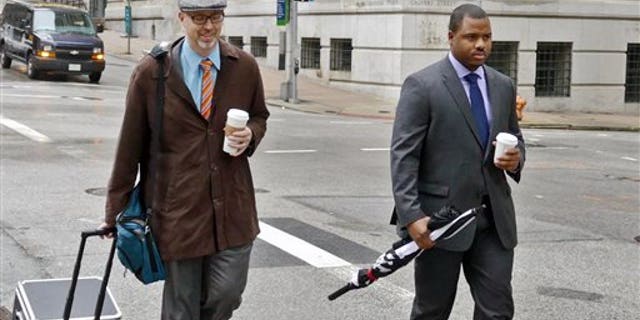 He also said at one point after Gray was loaded into the van he heard a lot of banging around and muffled voices inside the vehicle.
Dressed in a grey suit, Porter explained that he grew up in West Baltimore and wanted to be in the Air Force like his dad but "unfortunately" is color blind and joined the police in 2010. Porter said he routinely patrolled the area where the Gray arrest happened and often took the role of crowd control because he had a good relationship with a lot of the residents in the Western district.
Defense attorneys have tried to suggest that the van driver was responsible for Gray's safety. They have also said Porter acted the way any reasonable officer would have and suggested that the officer may have thought Gray was faking an injury to avoid going to jail.
Gray injured his spine in the back of the police wagon and died a week later, on April 19.
The death of Gray, a 25-year-old black man arrested after he ran from police in his neighborhood, set off protests and a riot in the city, and became a rallying cry for the Black Lives Matter movement. Porter is also black.
The state rested its case Tuesday after calling 16 witnesses over five days.
Five other officers face charges. The van driver, Officer Caesar Goodson, faces the most serious allegation, second-degree "depraved heart" murder. His trial begins next month.
Fox News' Jake Gibson and The Associated Press contributed to this report.