First law enforcement officer facing federal terrorism charges is indicted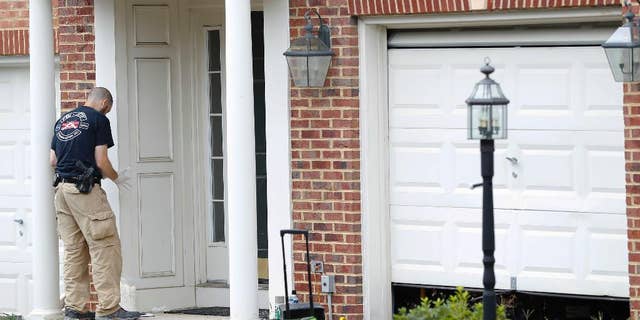 A federal grand jury on Thursday indicted the first U.S. law enforcement officer to face federal terrorism charges, after prosecutors said he bought nearly $250 worth of gift cards for someone he thought was working with the Islamic State.
MILWAUKEE EX-COP CHARGED IN DEADLY SHOOTING THAT SPARKED RIOTS
Nicholas Young, a 37-year-old former patrol officer with the D.C. region's transit police, was charged with attempting to provide
material support to a designated foreign terrorist organization and obstruction of justice.
According to an FBI affidavit, the officer from Virginia bought the gift cards that he intended for ISIS to use to buy mobile messaging apps in July. Young actually gave the codes for the gift cards to an undercover FBI agent, the affidavit said.
MASS RESIGNATIONS LEAVE INDIANA TOWN WITHOUT ANY POLICE
Young also sent a text to the undercover officer's phone in 2014 making it appear to the FBI that the officer had left the U.S. to go on vacation in Turkey, even though Young thought the officer had left to join the terrorist group, according to the feds.
If convicted, Young could face up to 60 years in prison. He had worked for the police department for 13 years before he was fired in August.
Young, meanwhile, sued Alexandria, Va., Sheriff Dana Lawhorne in September, asserting that his mental health was suffering in jail and he "could see himself dying soon," WRC reported.
"Sheriff Lawhorne has monitored Mr. Young's situation since the day he arrived and he has corresponded with Mr. Young's family and his attorney on numerous occasions," the sheriff's office responded.
Young had been under surveillance since 2010, and he traveled to Libya at least once in 2011, where he said he joined rebel forces seeking to oust dictator Muammar Qaddafi, the affidavit said. He traveled with body armor, a Kevlar helmet and other military-style items.
Young was deeply paranoid about law enforcement spying on him, often taking out the battery of his cellphone when he wanted to go somewhere and talk, the document said.
On Jan. 24, 2011, an undercover officer said Young told the officer he once aimed an AK-47-style rifle out of a window at his home, scanning for law enforcement he believed was watching him. On another occasion, he grew angry that the FBI talked to his family and co-workers and said he wanted to find the FBI agent and kidnap and torture her.
The undercover officer said he "doubted that Young seriously intended to act upon those words," according to the affidavit.
As police searched Young's townhome in Fairfax, neighbor Dina Ahmad described him as standoffish and said he had occasional run-ins with the homeowners' association over his cluttered front lawn.
He often worked on his car at late hours, and the car was adorned with anti-Israel bumper stickers, she said.
"We knew something was weird about him," Ahmad said. "You just kind of got that creepy vibe off of him."
Joshua Stueve, spokesman for the U.S. attorney for the Eastern District of Virginia, said Young posed no threat to the Metro system, and nowhere in the affidavit does it mention the subway and bus system for the nation's capital.
"Obviously, the allegations in this case are profoundly disturbing. They're disturbing to me, and they're disturbing to everyone who wears the uniform," Metro General Manager Paul Wiedefeld said in a statement.
FBI spokesman Andrew Ames confirmed that Young was the first law enforcement officer to be charged under the federal government's terrorism law.
Investigators said that in their years of monitoring Young, his purchase of the gift cards was the first action that crossed the line to where he could be charged with a crime, and they moved to arrest him as soon as it occurred.
As he was under surveillance, though, Young frequently made alarming comments, according to the affidavit. During one conversation with an undercover officer, Young said if he was ever betrayed by someone, "that person's head would be in a cinderblock at the bottom of" a lake.
In March 2015, he raised suspicion when he brought a large amount of ammunition, AK-47s and a pistol to an off-duty weapons training event organized by another Metro officer. Young said he owned even more weapons, according to the affidavit.
He also praised the 2015 Paris terrorist attacks at the Bataclan music hall and elsewhere, as well as the earlier Charlie Hebdo attacks, the document said.
The Associated Press contributed to this report.